The Crossroad - Sold - Price Ask sold to www.indyq.com

Where history and culture meet.

The inspiration for this case was taken from the art of the Dunhuang Grottoes in China. An excerpt from the documentary page on Dunhuang is below and the full article is found here ;


"Dunhuang is located in the southwest of Gansu. The ancient Silk Road passed here after Gansu Corridor. Dunhuang was the last stop on the Silk Road before the West Asia, also the last stop for an east-bound journey before the Central Plain. The significance of Dunhuang lies in its grottoes, mural caves refusing to go under yellow sands. These grottoes are museums of ancient arts and the intersection of Western and Oriental civilizations. These caves document cultural exchanges, a witness of the significant Silk Road. Among all, Mogao Grottoes are representative. These caves were cut on a cliff 25 kilometers southeast to Dunhuang, on a mount called Mingsha. Beginning from AD 366, during the ensuing 1000 years, more stone caves were seen, eventually formed a 1680-meter long south-north complex, with 735 caves from different dynasties."
For this case we chose to show the musical and dancing figures and flying deities, or flying fairies, that come from India and are represented with Chinese features. Music and dance symbolize energy, vitality, peace, and cosmic togetherness. When cultures meet peacefully they celebrate through elaborate dancing and festivity. In the Dunhuang Grottoes the ceilings are full of deities playing instruments and twirling through the air. Most of the representations have a Buddhist influence as the caves were decorated primarily for Buddhist worship and as living space for Buddhist monks.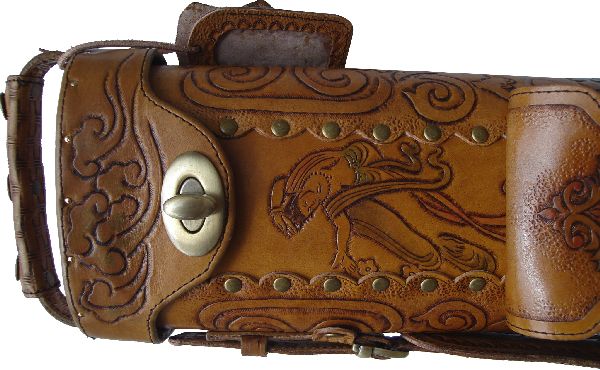 Again, for the canvas I chose to use the scallop pattern that has become the standard for cue cases throughout the world. I first designed this pattern in 1992. Although I am designing many new patterns I chose to use this one because it is a challenge for tooling artists to make designs that fit the pattern with close tolerances.

This case other than it is a one of a kind and will not be repeated. It is signed "John Barton 10-2007 1 of 1"
The case is a 2x4 for 2 butts and 4 shafts. It is a fully lined tube case with all the protective features that come with the tube cases I build. Moisture resistant super soft liner that won't wear out, foam rubber to protect against impact, industrial strength rivets at the stress points, a heavy duty top latch, spring loaded tubes, and durable pvc tubing. The leather is treated to resist soiling and liquids.

This case is sold, please contact me at jb@jbideas.com to inquire about it or one like it. The price is $1200 and includes insured shipping to any place on Earth that a truck can get to. Whether you are interested in purchasing a similar case or just like to browse fine work I thank you for visiting and spending some time with us.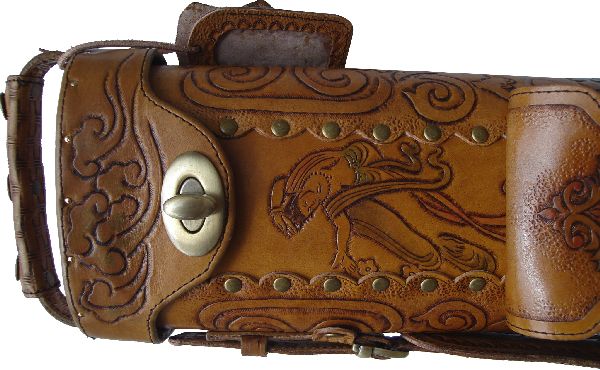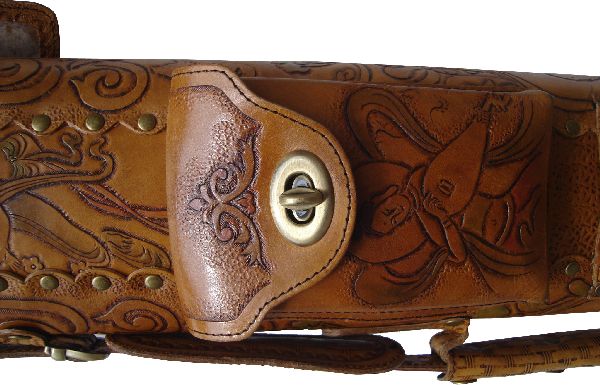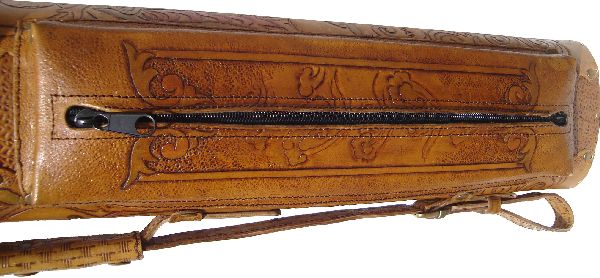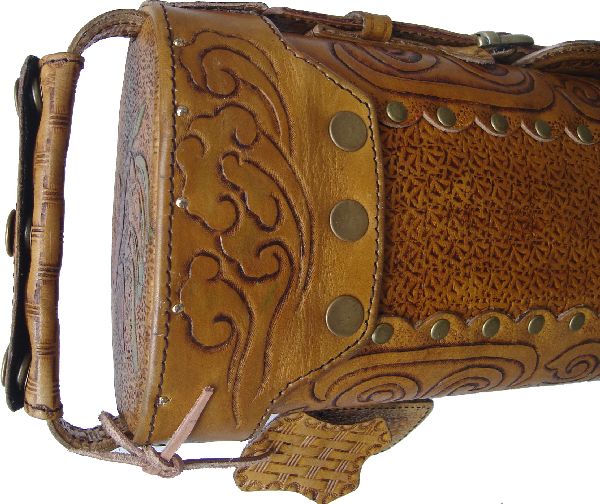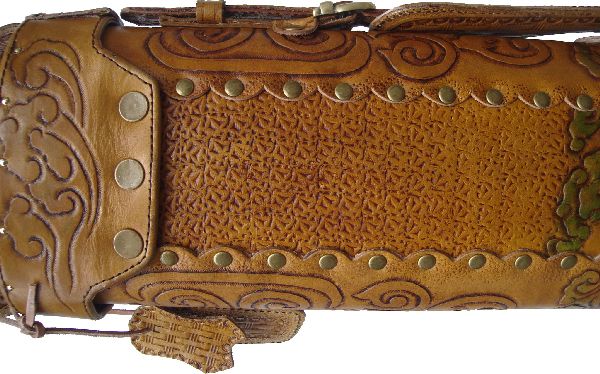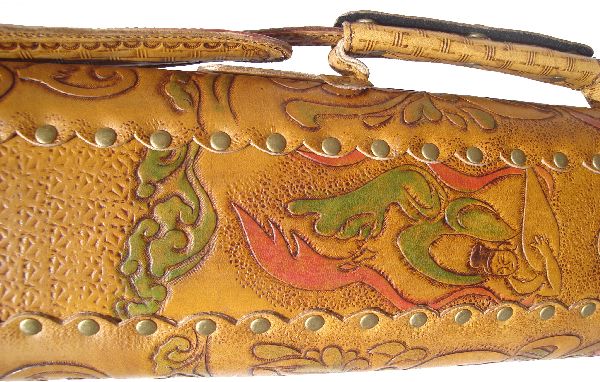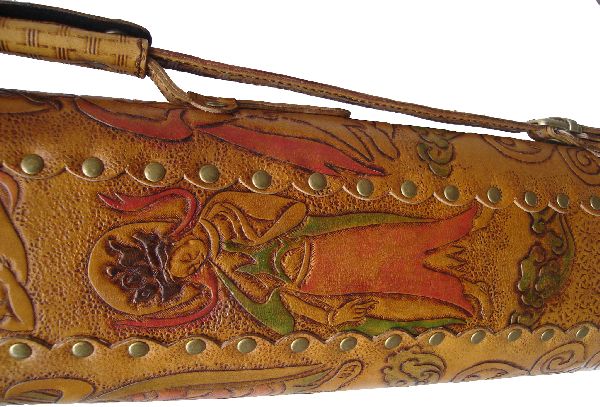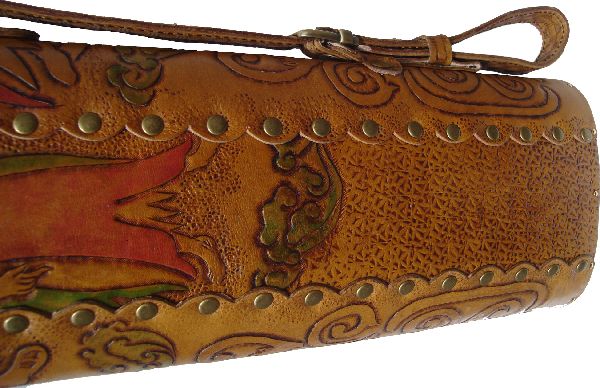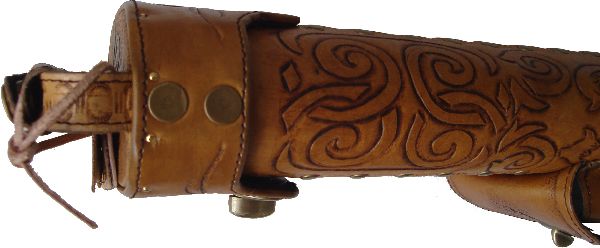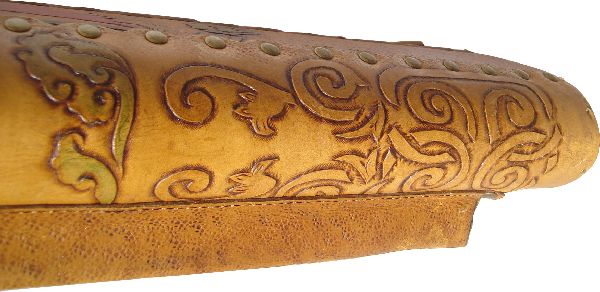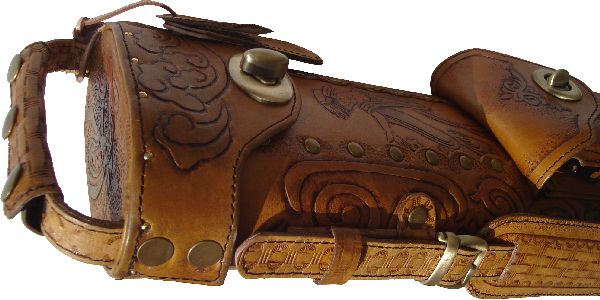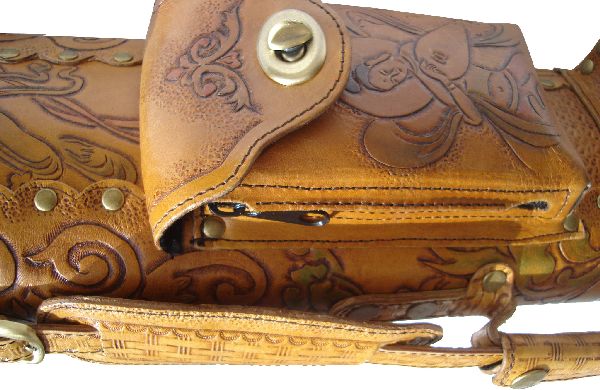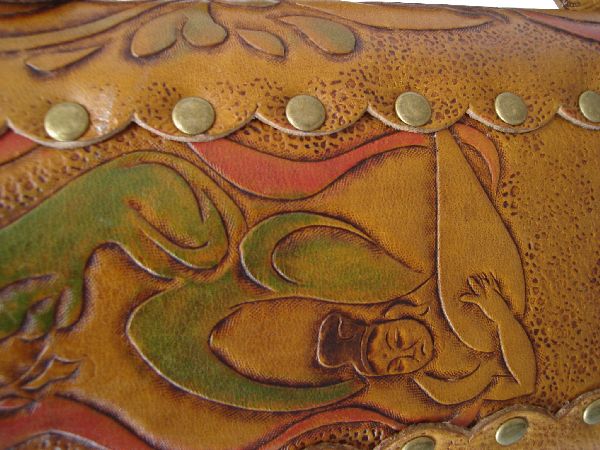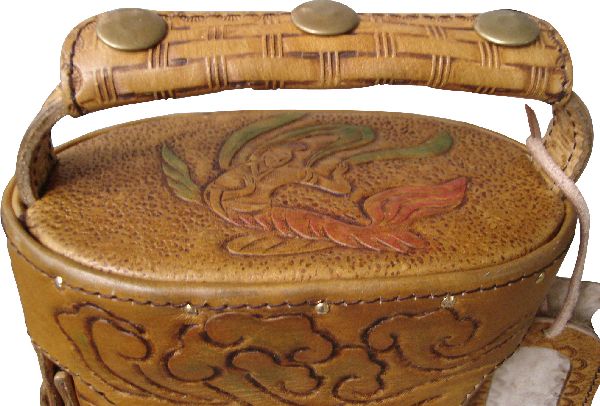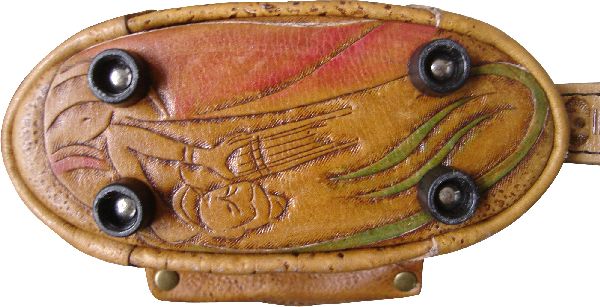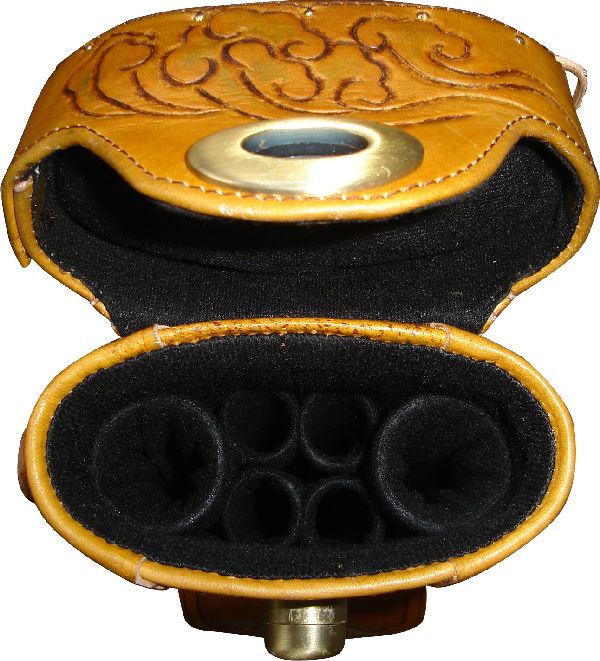 And that is the end of the pictures for the Crossroad case. Thank you for looking.
- John Barton