Testimonials
The Last Case You'll Ever Need | JB Cases Testimonial
;autoplay=0" height="350" width="425">
Motorcycle Accident | JB Cases Testimonial
;autoplay=0" height="350" width="425">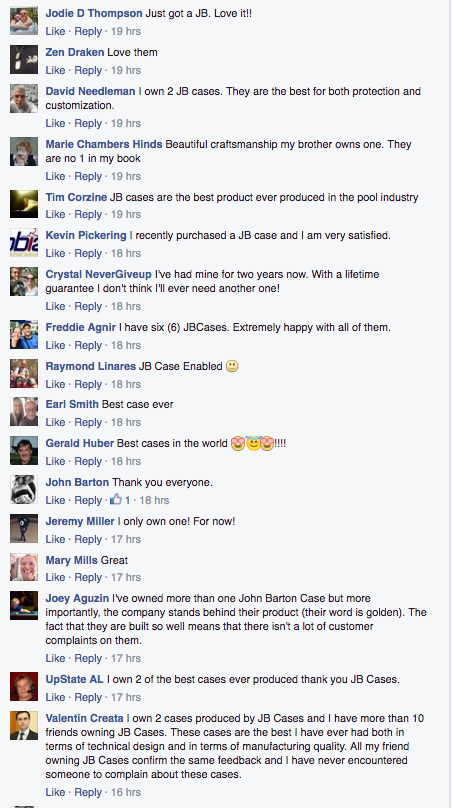 TESTIMONIALS FROM SATISFIED CUSTOMERS

Of course we aren't showing you the comments from unhappy customers because we don't have any. :-) Just kidding, of course once in a while we get comments when people aren't totally satisfied. When it happens we try to do whatever we can to to make them happy. You can scroll to the bottom to see the reviews from unhappy customers.

This page is a work in progress. Since I never really collected all the nice things people have said I now have to go and find them and bring them here.

So here is what our customers have to say about their cases:
---
My Lifetime Case
…. I have had many leather cases over the years – I can't even remember them all – and was never really happy with any of them except for a little 1×2 case made by Marc Turcasso. Yeah, I'm pretty picky. But I recently received a 3×4 case John built to my specs – lots of design freedom with John – and I am extremely happy with it in all respects. It's a relief to finally have my "lifetime case" to go along with my 28 year old "lifetime cue". To those who think "built in China" means lower quality, I have no comment except to say that it's not true with JB Cases.
Rich Klein




See Rich's Case Here

---
PLAYHARD
KAREN & JOHN,

I JUST WANTED TO SAY THAT THE CASE ARRIVED TODAY AND IT LOOKS EVEN BETTER IN PERSON. THIS WILL NOW BE CONSIDERED MY ROAD CASE AND ALL OTHERS WILL BE FOR STORAGE. I LIKE THE WAY YOU DESIGNED THE DOUBLE LONG POCKET FOR ACCESSORIES AND JUMPCUE HANDLE. I LOOK FORWARD TO WORKING WITH YOU FOLKS AGAIN IN THE FUTURE. AGAIN THANKYOU FOR THE EASY PROCESS TO IN MAKING ME AN AWESOME CASE AND HAVE A GREAT WEEK. ...........ALWAYS PLAYHARD JEFF






See the rest of Jeff's case here.

----------------------------------------
Jeff just purchased another case from us and this is what he had to say about it:

JOHN YOUR SHOP PUTS OUT A GREAT CASE AND AS I'VE SAID BEFORE I BELIEVE SECOND TO NONE AS I'VE SAID ON AZB AND WILL CONTINUE TO DO SO. THE NEXT TIME WE DO A CASE TOGETHER I'M GOING TO SEND YOU SOME PRINTS AND LET YOU RUN WITH THE GENERAL IDEA. I HAVE ALSO BEEN THINKING ABOUT A CASE MADE WITH PYTHON SKIN SOMETIME IN THE FUTURE SO IF YOU EVER RUN INTO A GOOD PIECE OF THAT WE'LL HAVE TO WORK SOMETHING OUT ON THAT. SO THANK YOU FOR THE OFFER OF KEEPING ME SATISFIED BUT YOU HAVE ALREADY DONE THAT MORE THAN ONCE. SO AGAIN I WISH YOU AND YOURS A SAFE SUMMERS ENDING AND AS I TOLD KAREN I WILL SEND YOU SOME PICTURES OF ME AND ALL MY JB CASES SOON. HAVE A GREAT DAY JEFF

PS THIS IS A TRUE STORY LAST NIGHT I GRABBED THE CASE OUT OF THE TRUNK OF MY CORVETTE AND CARRIED IT INTO MY HOUSE.......NOW FOR THE BEST PART WHEN I WENT TO SET MY CASE DOWN I REALIZED I HAD PICKED THE CASE UP BY THE STRAP HOWEVER I WAS HOLDING THE CASE UPSIDE DOWN ALL THE WAY INTO MY HOUSE FROM THE GARAGE. JOHN I HAD MY MONSTER TASCARELLA(7K-9K) IN IT IN FACT I HAD TAKEN IT OUT OF THE FELLINI STYLE TASCARELLA CASE YOU MADE AND BECAUSE OF THE INTERIOR OF THE CASE MY CUE IS STILL IN PERFECT CONDITION. SO YOU CAN TELL THAT STORY AS ITS A TRUE EXAMPLE OF THE PROTECTION YOUR INTERIORS OFFER. WELL ENOUGH OF MY BLABBERING......
AGAIN THANK YOU JEFF





See this rest of this case here.


---
JB 4x8 Butterfly - 07-12-2013, 05:08 AM
I have just received a JB butterfly 4x8, and thought I'd drop a few words on it. The case is solid and appears to be very well constructed. The attach points for straps and handles also seem to be very strong. Being a butterfly, the case is very light. The leather has a great feel to it, and although the design is simple, it stands out as an item that that is obviously not mass produced. The pockets are fantastic; they are easy to access, spacious, and the large pocket has a side compartment with a sleeve for a jump cue. The shoulder is very comfortable and has great padding.

Perhaps most telling, is that when I had the case next to a fairly eye-catching 'instroke', every person in the club made comments suggesting they preferred the JB case, even at a cursory glance. And this is in Korea, where knowledge of cases is minimal, and bling is usually king.

My only concern, and it's in no way a fault of JB Cases, is if the case is safe enough to fly with. I often need to fly to events, and it just didn't occur to me that a butterfly case may not have a shell that can stand up to the luggage bay on an aircraft.

By the way, in the picture of just the JB case, you can see my wallet on the rail. It cost $1400. As I was taking these quick pictures (which are pretty shoddy by the way, sorry John), the fact that my small leather wallet cost just under two times the combined value of those two striking cases made me realise that the price of a custom leather case from someone like John is actually really freaking good value.

Anyway, I'm very happy with the case, and it feels great hanging on my shoulder, not just from a comfort perspective, but knowing that I have on display a beautiful piece of craftsmanship.
---

J.Flowers Tribute Cases

This a line we designed to pay tribute to Jay Flowers and Nora Van Horn. Look here for more information on these great cases. www.jbcases.com/jflowers.html - www.sterlingcuecases.com - www.indyq.com





The following tetimonials were copied from the the AZ Billiards Forum here : Jay Flowers Tribute Case reviews

I had picked one of these up about a month or so ago.I can say that I am very pleased with my purchase.It has become my everyday case.It's a 2x4.Everything fits nice and tight.I even can flip it up-side down with the lid open and nothing falls out.I feel very safe with my cues in it.For the money as far as protecting my cues I'm finding it hard to believe there's anything better on the market today.I'd just like to say TAP...TAP...JB!!Great work on a great product!:thumbup::thumbup:

-JR

-----------------------------------------
After being a long time It's George fan I decided that JB's Ultra Pad interior was just calling my name for me to test out. I now own a 3x6 Flowers tribute case and I can't say enough about how happy I am with it. The exterior of this case is very easy on the eyes. It looks very well built with quality hardware and it seems "Heavy Duty" but is surprisingly light in weight. Both pockets large and small have the "L" zipper configuration and makes accessing these areas very easy. The large pocket also has a 3rd zipper with a very nice sewn in Pocket to hold a jump cue handle.

Now the good part......This Ultra Pad interior is flat out awesome! Nothing rattles or moves when the case is loaded with one cue or three. It's not loose in anyway, and it's not tighter than a gnats ass when fully loaded either and there is plenty of room in-between the cues. There's a very nice "snug" fit when you insert a cue.

All in all I have nothing negative to say about this case. It exceeds my expectations in every way possible. I couldn't see myself ever going back to an It's George case as a daily carrier so I sold my 3x6 here last night.

This case gets a 5 star rating from me.
If your considering one of these and are skeptical find somebody that has one and check it out!

------------------------------------------

I find it the best buy in its price category, in fact, I'm not sure I'll ever spend less on a cue case again (after using an original "J.EF Q Case" from Jay Flowers - made by Nora Van Horn, of course - for many years, still in good condition, by the way, I started buying cheap ones and replace them once they start falling apart).

Greetings from Switzerland, David.
---
The case arrived safe and sound wednesday.Finally got a chance to open the box and see my new toy(lol).WOW! What a beautiful case. The craftsmanship and attention to detail is far superior to any custom case i have ever owned.Can't wait to load it up and head to the pool room............Thanks a Million!!!!
JOHN
SANDIFER


To see more of this case -
https://jbcases.com/texas.html
---
Following is a collection of testimonials gathered for me by a friend from the postings on the forum AZ BILLIARDS. I haven't edited these or otherwise sorted them beyond what my friend did. Most of the time there is a link to the original thread so you can read it in context.
These testimonials are also NOT inclusive of anything after about summer 2012. I will update the list at some point with more of them when I can.
--------------------------------------------
https://forums.azbilliards.com/showpost.php?p=989639&postcount=1
Joe Van Buren
GTF Cases... a review - 12-28-2007, 02:08 PM
Well well well, what do I have here....
A brandy new GTF case for review....
Let me start off by saying, anyone who knows RSB knows that John Barton and I have had our differences. So by no means am I schilling for his case design. In fact I probably hoped I could find a lot wrong so I could tell him he can't even copy worth damn.. but that is not the case, no pun intended.
I have a smooth leather 1 x 2 GTF case. So let me begin my review...
Presentation is very nice.. the bag it came in is very nice. A product tag, a key ring with key and swatch of leather. I have to say, this part is really well done. Grade A
Latch: Now everyone knows any latch John picks out is suspect. But this is a nice brushed brass tone latch that does the job. The latch also has definition, little extra accent on the ends. The key works, one revolution clockwise to lock, counter to unlock. So far so good after 12 times. The latch on mine is attached via screws so if I needed to I could remove the latch with minimal effort. I could say that they should be riveted. But lets face reality, on all these style of cases you can pry the latch off with no problem. Grade: A, if it starts failing D.
Leatherwork: The seam is very good, the ends are very good. In fact the ends are finished nicer than the Kelli I have and the Fellini. I will use it and see how it all stays together, but right now its very, very clean. Grade A
Tube work: Cap: It looks like its a three piece cap. The extruded tube, and a top insert, and a cap. The cap is probably molded and has a rim that allows it to sit flush in the top of the tube. *guessing*This is probably a better design than a glued in cap. Plus I would think it would double as the bottom assembly. Case is longer than my Fellini.
Liner: The plush fabric is better than the thinner fabric. BUT I think its too tight. I know JB likes to turn his cases over and not have his cue hit the floor. However, I store my cues in these tube cases the following way: Shafts, tip up, butt screw down. Why? Less chalk in the tubes. It's a squeeze getting my cue in and I don't know if anything bad is happening while I do this. The butt swells the end of the case and the top needed to be finagled on. I will say I believe an older cue with a big butt is not going to fit into this case. Grade: B
What I would change. Move away from the Fellini style label. Stamp the ends, bottom of the case, get rid of the white label, the Fellini tag is iconic.
Overall this case is a low A - strong B.
All in all, the case seems to do what it is supposed to. I will use it for a few weeks then update my report. I cannot fathom any issues with such a simplistic case design. I look forward to seeing the 2 x 4 at some point.
JV
www.classiccues.com
https://forums.azbilliards.com/showpost.php?p=1693930&postcount=4
tikkler
I have about 60 GTF 1x2 cases.....I absolutely LOVE them
I use mine to store a lot of my collectable cues, and they are perfect for the job.
My cues are secure, well protected and in a nice compact case, its everything I wanted
Steve
https://forums.azbilliards.com/showpost.php?p=2173723&postcount=1
Lazerrus
G.T.F. Replica 1X2 - 12-15-2009, 03:11 AM
This is my review of the GTF replica series 1x2 in rust lizard print. Contact Tony (Benfica) for a great selection.
1st Thank you John Barton for building and designing this line!
2nd Those that already own one already know all of this.
Now on to the case. The first thing I noticed is how well the leather is fitted to the case. Being a "Replica" series it was one of the 1st things I looked at. The finishing on the end caps of the case is true perfection. The second thing I noticed about the case was balance and texture. This case just feels good in your hand. I bought a lizard print case and the texture that is embossed into the leather itself is nice and deep. That along with the thickness grade of leather used gives a very strong impression that this case is armored well for my cue. Then you notice the length of the case and lid space and realize this case will take any size joint protector on almost any length cue. A true collector's case. Upon removing the lid I was also so very impressed at how the material wrapped tube suctioned and worked better than the old style It's George cases. So what do I find inside but more fit and finish that is top notch. The material used is so soft yet strong. You find this desire to just keep popping the lid off this case because it feels that nice. So I slide my cue into the caseummm yeah, and I thought at first oh no it won't fit! Well I kept going and it hit bottom nice and snug and though this must be the "Lovable Hug" I heard about. Next went in the shafts to the same nice snug fit. Kinda like tucking your kids in at night. Except the cues come first right? Just kidding. So there it was all snuggled in new GTF protection and then I slid the lid on. WOW! I said to myself. I own and collect It's George cases and swore they could never be improved upon. Well like my wife says "I was wrong again". In fact I can not think or find one thing about the case that I would change. Try it for yourself and see. As for buying a new case of this traditional design I can not see buying any other brand. My only request to John and GTF is I really need a 3x6 So this case is easy to sum up if you are giving GTF a thought. This is a nice case $195 to $300+. Ultimate protection for your cue PRICELESS! http://www.gtfcases.com/
https://forums.azbilliards.com/showpost.php?p=3104234&postcount=1
putt-putt44/Alan
''Kopy Kat Cases'' - 07-14-2011, 10:33 AM
I received my first ''Kopy Kat Case'' today,,,
It features all of the wonderful traits of the ''GTF'' replica at a fraction of the price,,!!
The one I purchased is a gorgeous grey, it includes a lush, brown protective cover that easily and snugly close with a quality draw string...
The seam on the case is flawless and is far superior to the many seams that I seen on ''Fellini's''..
The top lid features an insert with the ''Kopy Kat Case'' logo, I'm told that down the road, cue makers can have their name and logo adorned in the insert as well,,
The case boasts the ''loveable hug'' that is consistent with all ''GTF'' cases,,as well as the ''GTF'' tag inside the case,,,
The lid closes with a very cool ''Whoosh'' sound as the vacume is sealed to protect the cue,,
The case looks like leather, feels like leather and has that ''new car smell like leather'' but alas, it made from a very high quality Vinyl,,
Overall, a wonderful value in a stunning cue case !!
My review is based on the ''Siamese Grey '' that I purchased,,,,,
You can see them at :
http://indyq.com/cases/kopykat/index.html
https://forums.azbilliards.com/showpost.php?p=3254810&postcount=19
Blue Hog ridr
10-15-2011, 03:20 PM
If you want plain but pretty with super protection, I suggest a GTF 2x4.
The best case that I currently own.
JB also makes a Kopy Kat case. GTF style with quality vinyl instead of the
leather of the GTF. I imagine that he also incorporates the JB interior that is in the GTF.
https://forums.azbilliards.com/showpost.php?p=3405796&postcount=55
warfdiesel
01-15-2012, 10:21 AM
I have owed a Barton. I did a trade deal with Mr. Barton here on az billiards.
As far as that case goes it is by far the nicest case that I have ever owned. I really loved it. It was a GTF 2x4. The simple design and top notch execution was awesome. It was a shame that I fell on some hard times and had to sell it. Damn schooling for the wife. LOL.
I will say also that Mr. Barton was very easy to deal with and the shipping time from China was incredible. He even let me ship the item that I traded to him to his father in law here in the states so I didnt have to pay for the shipping to China. I think that JB is the way to go if you want a super nice case that is still affordable and great customer service.
http://www.seyberts.com/products/Prestige_1X2_Brown_Nappa_GTF_Case-100334-10089.html#product-page-reviews
Reviewed by jive
best 1x2 case!
i got mine in leather with ostrich texture so i can't review this case for the leather. What i can say is that this is the best PROTECTIVE case you can buy for a 1x2. Period.
It's solid and extremely well built with nice detailed finishing. The interior is the highlight of the case, it hugs the cue and really protects them. Everytime i remove the cap of the tube i hear a "pop" sound as the fitting is so good there's a vacuum effect. This is value for money, you get the best protection from case maker John Barton and you get a nice case that looks like a Fellini! Can't complain!!
http://www.jimboarmy.com/phpbb3/viewtopic.php?p=22782#p22782
BarenbruggeCues
Post subject: Re: Case question: GTF vs. Thomas
PostPosted: Mon Jun 29, 2009 8:43 am
Ron makes a top shelf case with outside latchless top that snaps on and locks into place. Probably has a better(larger) selection of outside materials available to customize what you want.
I am impressed with the inside works of the GTF. The material used is very soft and will not scratch or mark your gems. Also with the top removed(just a tight friction fit) on the GTF you can turn the case upside down and the butt or the shafts will not fall out. If you shake it they will but not by just turning it over. They are somehow "foam" fitted like a glove to your cue and hang on to them. The thing I didn't like about the GTF was the seam work on the case itself.
If I remember correctly they were both priced pretty close to the same but really can't remember that either since it's been so long that I got them both.
If I had to get another I would go with the Thomas just because you can't beat working with Ron. He does get a little back logged at times as he stays very busy and works at his own pace.
Good luck on case venture.........
<~~~both cases are 1x2...........
_________________
Dave
http://www.stumbleupon.com/content/2473Ku
GTF Cases - Black Lizard 1x2 Cue Case
cuebux.com
cuebux said
The GTF Case was produced by John Barton of Instroke. He has produced a Two piece seamless leather hard case that is extruded as opposed to glued together. These cue cases are top of the line and feature genuine exotic leathers, prints and the best hardware available in billiards
on Mar 28, 2010 at 02:08 PM
http://forum.bilyar.net/viewtopic.php?p=84020&sid=6e24642a4feb42e1133c200deb1200fe
yuri_b17
Got this one from BF and I'm truly impressed with this case made by John Barton.
it truly is beautiful and at the same time it really serves it's purpose very very well...
Bodhidharma
I have had several cases by John Barton and I had two GTF storage cases about a year ago. John is a very good case maker. GTF cases protect your cues better than any other.
--Jeff
https://forums.azbilliards.com/showpost.php?p=1580220&postcount=1
Bruce de Lis
Jay Flowers Tribute Cases a review from a Confessed Cue Case Junkie - 12-25-2008, 08:53 AM
I was the runner up in John Barton?s Contest to give away a Jay Flower Tribute Case, I won a 1 x 2 Jay Flower Tribute Case.
I asked John if he would consider allowing me to upgrade the Case to a 2 x 4. John was kind enough to allowing me to upgrade the Case to a 2 x 4, and pay a price difference for the upgrade.
My Case is pictured here, and was shipped out of Xiamen China on 12/18/2008 (Last Thursday) it was in my hands 12/22/2008 (this Past Monday) delivered by United Parcel Service, after UPS became the delivery company for TNT, John?s Shipper in China.
After finding out I was a Winner, finalizing my order, my order was placed November 5, 2008. Delivery took just over 6 weeks to get my Case in The Sonora Desert. I understand John, and Staff are now delivering Jay Flowers Tribute Cases in about 30 days from order.
John?s Staff Packed the Case well for shipment overseas to protect it from all shipping hazards these days, the box arrived in perfect condition plastered with more shipping labels than I had ever seen covering a single box, and the Case came with a VERY NICE Cloth Draw String Protective Bag no one else has mentioned who has received a Jay Flowers Tribute Case.
One of my most important requirement for the Case was it be able to accommodate Cue Butts & Shafts Sections UP to 31-3/4 INCHES in Length with Joint Protectors. John accomplish this, as I have a Cue with RADIAL PIN, and JP that NEED that EXTRA LENGTH many Case do not offer!
My Case was originally to be a Dark Dark Brown with Tan Tooling, and Letters, but John and I made a CHANGE that apparently did not make it to his workers, and I got an e-mail from John, with pictures titled "See if this works".
After looking at the pictures of the Case John e-mailed me, posted by link above, I said it will work, ship it, but believe if it had not worked, I truely believe John would have done the Case over to make it right. In the end John's Staff pulled off some great color matching.
Honestly when I got the Case in my hands the CONTRAST between the Case Body Color, and Tooling/Letters Color was what I had envisioned. Can you say a DREAM CAME TRUE. I did not want an extreme amount of contrast, more of a subdued effect. The Case's Body Color is Dark Dark Brown, and the Tooling, and Letters Color are almost Gold-ish Dark Tan. Honestly it looks just great, and the people who have seen it in person make compliment on John's work.
Oh yes my Case is a 2 x 4, has the Black Plush Interior and Weights in DRY/Empty Weight of 5# 15.40 OZ. According to the Scale at the Post Office.
I would describe the hardware high quality, the color as like an Antique Brass Color, and compliments well with the Gold-ish Dark Tan Color of the Tooling, and Letters on my Case.
I would say the fit and finish of my Case is right up there with the other Best Case Makers out there, and everything lines up perfectly like the Stitching, Tooling Patterns, Rivet Placement, Zipper Placement, etc., and I would only guess John?s, and his Staff puts a great deal of effort into trying their hardest to turn out as perfect a Case as they can each time they build a Jay Flowers Tribute Case.
Lets talk about the Pockets, the Small One measures approx. 8.0 Inches long, x 3.5 Inches Wide, and about 1.25 Inches Deep. The Large Pocket is 15.25 Inches long, x 3.5 Inches Wide, about 1.25 Inches Deep, and has a SEPARATE Zipper to access a Cloth Lined Compartment for a Jump Butt. The pockets are EASY to get all that stuff I carry in and out of, so I would say the Pockets are very user friendly.
The Shoulder Carry Strap, and Pad easily deploy, and retracts for easy use, and storage. There is a ROUGH Leather Back on the Shoulder Pad so it does not slip off your shoulder. Yes I tested this on walk over to play pool.
IF I was going to order another one of these Cases, I would add some Tooling Pattern, or Initials to the Shoulder Pad, and maybe ask that the Carry Handle, and Top Handle be Tooled to Match the Cases Body Tooling Pattern. Just an idea to others considering a Jay Flowers Tribute Case.
Note as I said above I chose the Black Plush Interior, and I put Cue Butts and Shafts into the Case, and they fit snug but are easily taken in and out. I would bet if I held the Case Upside Down they would not come falling out. As Cue Butts and Shafts fit as said SNUG. There also seem to be a Pop Up System Installed at the cases bottom, to make removal of Shafts, and or Butts sections smooth as a breeze.
I have linked John?s Order information, for the Jay Flowers Tribute Cases, that should answer most questions about the Jay Flowers Tribute Cases, Their Pricing, and Color Options for the Jay Flowers Tribute Cases. I will add I feel John?s Prices are very fair for a Leather Semi Custom Pool Cue Case.
Thank you John Barton, and Staff for a job well done. You, and your staff sent me a great Jay Flowers Tribute Case,
John I think Jay Flowers would be proud of your work also.
https://forums.azbilliards.com/showthread.php?t=118488&highlight=case+review
iba7467
JB Flowers case review - 10-29-2008, 07:58 AM
I would like to start off saying that I am proud to have the first of these cases.
This case is built to withstand. The case construction is rigid. The tubes firmly hold the cue and shafts in place. The lining is soft and very smooth.
The leather is very solid in every area. The case comes with a padded shoulder strap. Above I listed alot of positives. The most of all to be mentioned should be the value. The price of these is beyond reasonable.
With every fair review there must be negatives and I will give them here. With the safety and construction of this case comes weight. There is an optional lighter interior, but I am commenting on my case. It is heavy.
The design of the shoulder strap pad is such that I believe the padding may wear excessively overtime. The pad feels almost like gel-padding which has never proven to me to be suitable over long periods. The strap itself released fairly easily when I first got it. I did have a towel ring which likely caused it since after moving the ring I have had no issue.
I think the cases are great and cannot be rivaled at the price John has them for sale. Good luck
Sincerly,
Proud owner of case # 1
https://forums.azbilliards.com/showpost.php?p=1634488&postcount=1
muttley76
JB Cases Flowers tribute case - 01-26-2009, 07:51 PM
I just had to get a review out there for the Flowers Tribute cases being offered by/through John Barton, aka JB Cases. I received mine today, and am totally thrilled. The colors and tooling came out beautifully, and I could not be happier. I highly recommend this to anybody out there. You won't be disappointed. Thanks John, Matt.
https://forums.azbilliards.com/showpost.php?p=1578599&postcount=8
RFisher/Fisher Cues
J Flowers Tribute Cases
12-24-2008, 08:39 AM
I've have 2, 1 I ordered for my brother for christmas, can't wait to give it to him, it's #31, mine is #12.
You can not find a case this well made, with custom features at this price. They are beautiful, sturdy/solid, people notice my case right away.
I have 2 Justis cases, had 4 Whittens, it's georges, instrokes. And for me, John Bartons cases are right up there with my Justis's, yes, Jack is a legend and those cases speak for them selves (not getting rid of mine any time soon) but for those who don't have $600+ to order a new one, and have it customized there is no better case than these.
I personaly never liked instrokes clasps,knobs, whatever you call them, too many people coming up to me at tournaments asking if I had replacements, or could fix them. And I love the J flowers/Justis style cases.
If I had to give 1 draw back, and I wouldn't want it changed, is the pocket depth, the zippers and my hands don't always get along. Other than this, they are pieces of affordable, functional art.
I love my brother, but if it weren't for the affordability of these cases, he'd be getting a gift certificate to the MEAT LOCKER.
THanks John,
John Barton J. Flowers tribute cases, The official case of FISHER CUES.
Bryan Fisher
Fisher Cues
https://forums.azbilliards.com/showpost.php?p=1736108&postcount=40
krbsailing
Best Cases on the Planet.... - 03-26-2009, 12:05 PM
Just rec'd this case (J Flowers Tribute) from John's shop -- GORGEOUS!
I've had a few Swifts and Justis cases.....but, IMHO this is by far the BEST case I have ever held in my hands. The fit and finish is EXCELLENT! The tooling is FANTASTIC!! I was a little unsure about the new interior but, it's AWESOME! I know these guys are very busy but, the wait will be well worth it to you for sure!!!
Thanks Again John
https://forums.azbilliards.com/showpost.php?p=1899902&postcount=1
Blah Blah
J.Flowers Tribute Case Review - 07-02-2009, 02:06 AM
"I just got my Barton/Flowers case last week. https://jbcases.com/gallery/main.php?g2_itemId=5173
It is beautiful. Truly beautiful. I should post pics but I can't at work, so that was just the ordering link.
Now, if I wanted to make it drop- dead perfect, I would have pockets like on some of his other cases- where they're lined with soft linen and have wrap- around zippers so you can open them wide like a display case (great for signed dollars!). These pockest are stiff and unlined, but I expect they'll soften soon enough.
As it is, it was an incredible deal (even if he had charged $100 more it'd be a deal), looks awesome, smells like a new Coach purse, and has my name right on the shoulderpad in case someone asks me and I totally blank and can't remember.
Not only did it arrive earlier than expected but the attn to detail was amazing: every flower is lined up perfectly with the lines of the case and with the crescents in the patterns. Anything a little "off" would have bothered me- I'm that picky.
Actually... it's way better than a new Coach purse. "
https://forums.azbilliards.com/showpost.php?p=1900031&postcount=2
FeltMaster
Flowers Tribute - 07-02-2009, 05:36 AM
I have one of the Tribute cases and it is one of the best made cases I have ever owned. The price is more than reasonable for what I recevied in regards to custom work, craftsmanship, and protection.
John, I am sure no one has forgotten this among the influx of new case makers.
As always, good luck with your continued success.
Dom
https://forums.azbilliards.com/showpost.php?p=1900999&postcount=4
BlowFish/Jhun Jimeno
07-02-2009, 05:15 PM
I have 2 of this Tribute case and ordered another one. Need I say more.
Thanx a lot John.
https://forums.azbilliards.com/showpost.php?p=2089858&postcount=1
NewStroke
My New J. Flowers Case - 10-30-2009, 08:07 AM
It's a totally plain case with my name engraved on the case cap (this is the style I like). The quality of the materials and workmanship is better than I imagined.
John was great working with me as well as patient. I am super happy with this case.
https://forums.azbilliards.com/showpost.php?p=2097842&postcount=45
blah blah/ Customer Service Follow-up
Ima let you finish, but... - 11-03-2009, 04:38 PM
NewStroke-
You truly have a lovely case- congratulations on a good purchase. I think going for the plain, simple lines the way that you did really brings out the smooth beauty of the case. It's pretty enough on its own to not be "plain" at all. And you know that your cues will be well- protected.
For my own part, I had a very very small issue with my case that I mentioned to John about two weeks after receipt. He seems to know everyone- he immediately contacted a casemaker in my area who then contacted me, met with me, did the necessary small fixes beautifully, and then returned the case to me. At no charge or hassle at all. There were no accusations, arguments, difficulties, shipping costs- nothing.
So not only do you have a beautiful case, I am confident that you also have a new friend in your corner with John.
Take the stage back with that pretty pretty case of yours.
: )
https://forums.azbilliards.com/showpost.php?p=2099453&postcount=79
dainese1919
11-04-2009, 01:34 PM
i had bought a justis prolite, used it for a while, love the looks, love the lite weight. didn't care about the losse fit.
currently using a JB flower tribute case, it's the most sturdy case I owned yet. it looks great, thick leather feels great. it's a bit heavy.
I agree with most of John's points so far and his case does offer great protection and you can definitely feel it. The cost of his case is also unreal considerd the average custom case price these days.
I'd strongly recommend anyone looking a custom case give John a call/email.
https://forums.azbilliards.com/showpost.php?p=2254425&postcount=1
Big J/JR
Jay Flowers Tribute case - 02-02-2010, 10:44 PM
I had picked one of these up about a month or so ago.I can say that I am very pleased with my purchase.It has become my everyday case.It's a 2x4.Everything fits nice and tight.I even can flip it up-side down with the lid open and nothing falls out.I feel very safe with my cues in it.For the money as far as protecting my cues I'm finding it hard to believe there's anything better on the market today.I'd just like to say TAP...TAP...JB!!Great work on a great product!
-JR
https://forums.azbilliards.com/showpost.php?p=3215932&postcount=6
deadnutz
09-22-2011, 03:56 PM
After being a long time It's George fan I decided that JB's Ultra Pad interior was just calling my name for me to test out. I now own a 3x6 Flowers tribute case and I can't say enough about how happy I am with it. The exterior of this case is very easy on the eyes. It looks very well built with quality hardware and it seems "Heavy Duty" but is surprisingly light in weight. Both pockets large and small have the "L" zipper configuration and makes accessing these areas very easy. The large pocket also has a 3rd zipper with a very nice sewn in Pocket to hold a jump cue handle.
Now the good part......This Ultra Pad interior is flat out awesome! Nothing rattles or moves when the case is loaded with one cue or three. It's not loose in anyway, and it's not tighter than a gnats ass when fully loaded either and there is plenty of room in-between the cues. There's a very nice "snug" fit when you insert a cue.
All in all I have nothing negative to say about this case. It exceeds my expectations in every way possible. I couldn't see myself ever going back to an It's George case as a daily carrier so I sold my 3x6 here last night.
This case gets a 5 star rating from me
If your considering one of these and are skeptical find somebody that has one and check it out!
https://forums.azbilliards.com/showpost.php?p=2035715&postcount=1
a9ballbr8k
My New JB Flowers Tribute Case. - 09-29-2009, 11:33 PM
This case came out fantastic!! John is a fantastic guy to work with. Was quoted completion mid to end October but just received an email it was shipped out this morning!! By the way check out the bottom of the case. A red piece of leather was added with the "made for" info instead of just stamping the black case leather....looks very classy.
https://forums.azbilliards.com/showpost.php?p=3518350&postcount=11
jacobyguy/Matt
As for my case... i took it to my first tournement yesterday, the tournement was played in a downtown area with about 8 bars in a 2 block radius. players walked from bar to bar to play there next match, and i must say that the flowers tribute 3x6 isnt light. (i was carying 2 butts and 5 shafts) i wouldnt campare it to the ruck sak i luged around in the military but if i wern't a young buck i might be irritated by its weight. The sholder strap pad provides just enough padding to make it comfortable to carry.
Love the ultrapad interior and the protection the entire case provides.
Love the finish and the look.
Love the storage space, i can carry all my tools and my 2 playing cues and still have space for an opportune buy if needed.
L shaped zippers are not the smoothist but may free up over time as the leather on the pockets gets more flexable.
https://forums.azbilliards.com/showpost.php?p=2265878&postcount=7
Varney Cues/Kevin Varney
02-09-2010, 08:13 PM
I've used Whitten cases for the past 10 years or so...they are of the highest quality. With that said...for the past couple months I've been using one of John Barton's JB cases with the rebound interior. John built the case exactly to my specs with the features I wanted. I couldn't be more pleased with the case & quality....and I can say without doubt that it indeed offers the finest protection available. Mine is a 4x8 thats smaller than most other cases that hold fewer cues. I'll be using JB cases from now on. John Barton will go out of his way to help you get exactly the case you want. I could not be happier with my new JB case.
https://forums.azbilliards.com/showpost.php?p=2261555&postcount=1
mdavis228/Chris Davis
This was a case that sprang to mind after seeing John post a case he called "Chocolate Love" some time back. I contacted him with my ideas & he returned my call promptly (allow for him being on the other side of the world). He was real easy to work with & accomodating in helping bring my wishes to reality.
This case is a serious piece of leather equipment. Just looking at it brings the term high quality to mind, and when you feel it you know you were right. The leather is very thick & strong, but still feels pliant. The fit and connectivity is tight & secure. The hardware is top knotch in quality & aesthetics - in this case a black chromed finish, very nice. The stitching on this one is black against the brown tones. The leather color is tone on tone in luxurious browns. I asked for the bulk of the case - including all of the "handled" areas - to be rich oil tanned leather. The front & back center panels, the lid, and the id patches are done in a vegetable tanned leather that is just a shade lighter in color with an antiqued finish. John pulled the coloration off spot on to what I wanted. All of the snaps are very solid & utile, and the zippers work efficiently & with ease. You don't have to force or fight them, just give a gentle steady pull & they move smoothly. As you can see, I was interested in providing for a wealth of accessible, available, useful storage, and again, all is well. The pockets are well made, well sewn, plenty large, and you can get to & use all the space provided. Love the jp pocket w/ magnetic closure. The shoulder strap stows nicely with the provided snapping leather rings, and the towel ring placement provides excellent symmetry for threading the towel thru the carrying handle and/or shoulder strap when carrying.
As for cue protection, there is none better. This case has the natural rebound interior which provides great padding & the benefit that the pieces tend to "pop gently up" as you unstow them. Each butt & shaft (and this case is set up to facillitate 3 butts/4 shafts or 2 butts/5 shafts) stays separated from one another even above the sleeves - nothing touches. The parts go in easily, but snuggly, and there is no reason to concern yourself with any of the silly abrasion concerns that have been spouted. No problem. One of my cues is a jet black Gaboon Ebony butt sleeve. I'd notice if it was being scratched. There is definitely no concern for the safety of your equipment when it is in this case.
It's not a light case, but I didn't place any value on that for my purposes.
If I would have done anything differently, I may have had the zipper on the center pocket extend to the bottom on the "handle side" for access clear to the bottom - straight in, but I've not felt at any loss for it. I have LOTS of storage room - and I took stock of what I wanted from many years of case use.
If I have one suggestion for John in improving the interior it would be this...
Once in a while, the top of a sleeve will "lay over" when you are putting a component in, causing you to have to "work it in" a little. Nothing major at all. If the interior sleeves were taller, allowing an average person's finger to reach it easily, the material could be pushed back & ease installing the butt or shaft at those infrequent times. It's been mostly the butts that I've experinced this with - and only sporadically.
John provided an innovative "plug" for one compartment that holds my 2 piece Lomax jump cue butt up with the rest. It has a long flap that extends approx 6 inches above the sleeves, so you can push the flap down into an adjacent sleeve. This gets it out of the way - almost invisible - but would be easy to remove if you wanted to do so. Nice idea! And it does stay put.
Lastly... I wanted to personalize the case subtly with just my 1st name, "Chris". John had me hand write my name on a piece of computer paper & fax it to him. Then they laser engraved/tooled my hand sig into a circular, inset, patch centered on the middle pocket. They dyed the patch like the antiqued case panels so that it is very subtle.
I'm very happy with the whole process of designing this case & interacting with John to get it moving forward, and the case that I received as a result - and rec'd ON TIME as advertised - is everything I hoped for & then some. It is a very, very fine piece of work.
https://forums.azbilliards.com/showpost.php?p=2588537&postcount=1
Bruce de Lis
New JB Custom Case - 08-31-2010, 07:22 AM
Well the wait is over, I have received my JB Cases-Custom Case, and it is now time to share the story. First I wish to thank John Barton and his team, including the talented Zhen Hai his Master Leather Worker ( pronounced GEN-HI) who was responsible for part of the tooling design, and all of the leather tooling. Think Zhen Hai 's Leather Works ROCKS! He is IMHO right there on the top of the pile with the best leather workers in the world.
The idea for this Cue Case came about because I was seeking what I would like to call the "Perfect Pool Cue Case", for me to carry what I use. I started calling the project, the "Element's Case",(<<<---PHOTOS LINKED AT LEFT) when I realized I was putting elements of what I liked in other Pool Cue Cases that I own, or have previously owned, or had the opportunity to look at, and examine real close!
I decided I wanted a Cue Case built to hold, 3 Cue Butt Sections, & 4 Cue Shafts, so I could carry the following with ease. Playing Cue with Two Shafts, a Break Cue with a Single Shaft, a Jump Handle with a Single Jump Shaft, and in last a Butt Section Slot, was the place for carrying my John Hager Extension. Think the Brown Colored Ultra Pad Interior works well with the over all, color, and design of the case.
Plus I again choose to have John's Ultra Pad Interior Liner, for MAXIMUM CUE PROTECTION! Like John offers in his line of Jay Flowers Tribute Pool Cue Cases, that I personally consider, a "best buy" in a leather pool cue case, because of all the options offered at little or no cost. Lots of bang for the buck in those Jay Flowers Tribute Pool Cue Cases
I also request deeper than NORMAL Pockets, (Approx. 2" Deep) as I have this Pro-Just-A-Bridge I love to use, but because of the Pro-Just-A-Bridge's bulk, it often get left at home as it didn't fit into my other Pool Cue Cases. Plus the Pool Cue Case has room for cell phone, reading glasses, pool rule book, accessories up the wazoo, change of clothing, including extra pair of cowboy boots, LOL, etc. Yes I carry too much junk.
Also as I am a South Pawed I asked John to set up the Case to be carried in my Left Hand with Pockets away from the body, Top/Lid Forward, the way another Cue Casemaker sets up his cases. The other reason I asked for Left Hand Carry is a problem with my Right Shoulder, that I just can not too carry much weigh in my Right Arm because of the problem creates pain.
Also the Jump Butt Compartment & Zipper is on the Side where my Side Carry Handle is for ease of getting at the J/B Handle. Plus I can see if I left the compartment open before walking too far.
The case has the similar profile of a Pool Cue Case John did previously, it was called , "The Palace Garden", but I wanted more bare leather showing, I think the tooling that was done on my case flowed together well. The Pool Cue Case John did called, The Ranchero Case was the inspiration for less tooling, and more leather showing.
I have had the opportunity to look over the Element's Pool Cue Case real well in good light last evening, I know I have a critical eye for detail, and I would rate the workmanship a 10 ++ out of a possible 10. Honestly everything lines up perfectly, and it all works like the Marine Corps Precision Drill Team in Washington, D.C. The Zipper Placement, Stitching , Fit & Finish, etc., is all just way beyond great construction. Lets say John, and his teams attention to detail is like striving for perfection.
I really like the Puzzle Latch, John Barton created, and is now incorporating in many cases, as it was designed to replace trouble some Turn Locks, Purse Type Twist Locks, and Snaps that can with time developed problems. The Earth Magnets John uses in the Puzzle Latch are said to loose 1% of their power every ten years, so the Magnets I am sure will be working flawless when I am long gone.
John also incorporated a Chalk & Joint Protector holder in the Top Pocket. The Case has John's newly designed Rubber Foot, to keep the Cue Case from slipping on a slippery floor when leaned against something. Dry or Empty Weight of this 3 Butts, 4 Shaft Pool Cue Case is 6 # 1.6 OZ.
I took the Pool Cue Case over to our Community Leather Club where I live yesterday afternoon before dinner, I asked a few of the members how they would rate the workmanship. Got lost of ooze, aaaazzzz, and nothing but compliments. One guy asked about the Chinese letters on the bottom, and I said it was the mans name who did the tooling work, and he is in what I call the "Old Red China", were the Pool Cue Case was built. This Leather Club Member who did the most talking, said he did not realize the Chinese were capable of such a work, was totally impressed with the quality of work, and all the attention to small details, that he made a point to point out to me. Like all the Tiny Swivel Knife Cuts in the Side of the Case, Carry Strap, Top Handle, Side Handle, Under the the Top Positions of the Body of the Case that he said was the mark of a very skilled craftsmen who took his craft seriously.
This was the same kind feedback I got on my Jay Flowers Tribute Pool Cue Case, that I took it over to the Community Leather Club, a year ago for critique, and comments.
I honestly think John, and his Team have hit a Home Run with the Element's Case, I am one happy camper. What I received, it is beyond my wildest expectations. I will honestly say if you have a idea for a Custom Pool Case with Logo, Artwork, Special Configured, etc., you would like to see come to see come life. I would highly recommend John, and his Team for your project, as they are more than capable of turning a simple ideas into Magic. Making suggestions on what functions', what don't function. What works, what don't work in Pool Cue Case design, and turning your ideas into great Pool Cue Case.
I will take the liberty of giving John Barton, a new AKA. That being King of the Pool Cue Casemakers, as John is been at this Pool Cue Case Build thing over two decades, he is constantly reinventing Pool Cue Case Design, he can build about any style of Pool Cue Case, or any configuration of Pool Cue Case, and is constantly looking to do Pool Cue Cases that not only look great, but offer the best protection for Pool Cues.
https://forums.azbilliards.com/showpost.php?p=2588835&postcount=15
Rich93/Rich Klein
I received my JB case a couple of months ago. It's also a 3x4 with larger pockets, ultrapad interior and the puzzle latch (works great, by the way). Mine isn't tooled, but the leather is top quality. For such a terrific piece of leather goods, the price was very low (check out Hartmann briefcases for a comparison). John is THE MAN!
https://forums.azbilliards.com/showpost.php?p=3068320&postcount=27
TWOFORPOOL/Bob Olson
JB Cases - 06-20-2011, 10:20 PM
I happen to be the lucky winner of the first JB Custom case designed by me and John Barton. This case is a 3 x 6 with the same inside configuration. I have had this case since May 2008 and have had expensive cues in ths case constantly. I even have a jump cue butt in one of the SHAFT sleeves that stays in place and doesn't fall to the bottom of the case (they stretch) with no damage to any other shaft or butt.
I have had no problems with any of my cues being in this case NONE. They actually protect the butts/shafts better since they don't move around (as tube cases do). They also don't accidently fall out. Best design in a case IMO.
https://forums.azbilliards.com/showpost.php?p=3093681&postcount=11
BRKNRUN/Ken
07-07-2011, 06:42 PM
I went with a Barton case. I looked at all the case makers...I liked what John did the best.
I had zero problems working with him. He was super helpful, and even took the time to talk with me on the phone for about an hour going over the details of the custom case I wanted.
I really like some of the features of his cases....the rubber bottom, and the magnetic puzzle latch.
If I had it to do over again...the only thing I would have done different is to have asked to have a case with no zippers and all the pockets have magnetic closures of some kind.
The case is sweet....It is comfortable and real easy to carry and access whatever I want.
For reference....the case is the "stealth" case on his website...The pictures don't do it any justice though.
KEN
https://forums.azbilliards.com/showpost.php?p=2278668&postcount=1
weeseng
John Barton Cases - 02-17-2010, 02:55 AM
My new John Barton cue case finally arrived! I'm very impressed with the level of protection my cues' getting from my GTF case, and expected nothing less from the JB case.
Things I like about the case:
- The case came with a cloth bag. Nice touch.
- There were little "gifts" like extra rivets, a leather pouch with JB Cases name cards, and a burnisher. 2 thumbs up!
- Nice looking zippers which were quite easy to pull.
- Sturdy and solid cap.
- The interior is what I like most. Butts and shafts are held down so securely by the soft interior that they wouldn't fall out even if I turned the case upside down.
- Overall, the case was built very well, no visible flaws. It felt very sturdy and hardy, and yet not heavy.
Things I didn't quite like:
- I had specifically asked for the jump cue compartment to be able to fit a jump cue butt measuring 14.5 inches. I measured the jump cue compartment and the zipper measured exactly 14.5 inches. It was a very tight fit and extremely difficult to get the cue in with or without joint protector. Eventually I decided to do without the joint protector because I didn't want bloodied fingers from the struggles with the zippers. Even without joint protector, it was still very difficult to get the jump cue butt in. Every time I squeeze it in, the zippers would scratch my cue. It's a 250 dollar Josey jump cue, and I'm not sure if I should continue placing it in the jump compartment.
- Communication via email with JB Cases wasn't exactly prompt in the initial stage. Even after I've paid in full for the case, I waited one month for their reply. I can understand if they are too busy to start working on my case, I don't mind queuing, but it's just impolite to ignore my emails for a month. Although I must say that they were super fast in building the case, it took less than a month from the final confirmation to the case reaching me! So that kinda made me felt better about being ignored.
- Their customer service also lacked a personal touch. I was only told that my case was on the way to me after they've shipped it out. I had wanted it to be shipped to another address, but they took their own initiative to ship it to my paypal address. It would have been much better if they had told me that it's done and confirmed my shipping details before sending it out.
Would I buy from JB Cases again? DEFINITELY YES! The freedom to fully customize my case and the superior interior are more than enough reasons for me to buy again.
https://forums.azbilliards.com/showpost.php?p=3194339&postcount=17
deanoc/Dean
Jb chas cases - 09-09-2011, 08:16 AM
I recently ordered a fancy cowboy tooled case from John Barton
because of my vague instructions and request we never got it fished
we probably will before long ,but John felt bad so he sent me 2 Chas cases
2x4 handle only for the same price as the one i paid for.He even offered to tool them at no cost to me
I felt like it was way too much for him to offer,so I requested two with no strap,pouches or tooling
AND
I got what I consider to be the perfect pool cue case for me.The size is compact ,handy,manageable,the style is rustic western chic,less is more,kinda what you would expect for a Texas cowboy
In conclusion,John Barton is a very honorable person to do business with.
His cases are as good as you could possibly want.
I heartily recommend him and the cases to you very highly
Dean
https://forums.azbilliards.com/showpost.php?p=3252301&postcount=19
Roadking
10-14-2011, 04:05 AM
I recieve my JB Case a little over a week ago.
It's just a sweet plain jane no tooling case. I'm not into fancy.
Can't post pic's now so here's the link.
https://jbcases.com/sweet.html
The first thing I have to say is thank you John & Karen for putting up with me.
And second this case is built like a brick shit house.
Every thing is built so tight. Especially the 3x4 ultra pad interior. At first I didn't think I could get 3 butts & 4 shafts in it. But I did,very secure!
I have to say I was a little skeptic about John's magnetic latch on my 3rd pocket but let me tell you that I'm a believer now.(very strong pull)
Also the puzzle latch on the top lid is probably tighter & more durable then if it was made out of brass.
Even the zippers are tight. (Thinking about putting a couple drops of silicone on them)
The handles are stiff & sturdy. The leather John used is good quality & thick. It might even be bullet proof.
The only disappointment was that the little leather pouch John sent me was brown & not black. One thing John should have learned about me is I like black leather.
And also I didn't get a JB cloth burnisher.
All in all I want to thank John & Karen again.
One more thing, I don't know about anyone else but it's hard for me to spend $$$ on a product that I can't hold in my hands before I buy it. Especially ordering it from China. And that's what I went through decideing about buying a JB case. But I'm gonna tell you JB cases is very professional & reliable & would buy from them again.
https://forums.azbilliards.com/showpost.php?p=3254107&postcount=20
NateSchoepf
JB cowboy leather plain jane chocolate brown 3 butts 4 shafts or 2 butts 5 shafts - 10-15-2011, 05:16 AM
Got this case about 3 years ago, I still get compliments and I am not easy on my cases, looks great even with the scuffs(next one will be saddle leather--I love how it looks ruffed up after a while)
Its a 2 butt 5 shaft or 3 butt 4 shaft soft interior dividers....now the fit is so nice and snug without being to snug as to use extra force to remove or put in that the cues dont move----I also have the top handle(a must), a side handle(another must), and a shoulder strap that is removeable with snaps, there is no velcroe(thank god), all straps and handles are stiched or tooled or they use the snaps.
I have had many who have asked if the case was for sale but its not at the moment......paid $475 shipped, waited couple months or so, there was no comunication issues if you have the patience to wait a few days for replies(guys got other things to do, like build cases)
also has a jump handle pocket
(I wish someone could figure out how to move that pocket away from your tip tools pocket and extra gear pocket so if you own a custom or matching jump cue it wont get bumped around by your extra goodies you never know when you will need.)
The the main bottom pocket which fits most normal pool items. I have a jump/break cue(The stinger-breaks good, but Jumps the best of all J/B's, my opinion.) So I can fit a few extras because theres no jump cue handle.
Also has a top pocket. Normal to a little bit bigger than average.
Best part about the pockets are they are zippered...no more broken twisty release tabs that break after not to long(or, from shipping-brand new, broke and I never used it, its a 2x4 mcdermott collectors addition with the self standing legs....the top latch to hold the cues in broke in shipping.)
JB cases work great, a little heavy but thats what you want to protect your cues.....the snaps on the shoulder strap and the top handle sometimes come unsnapped is about the only complaints if I think hard, and thoughs may be partially my fault or the company who makes the snaps.
Anyways, dont even think twice if you can afford this type of case and want one that will last for as long as you play pool then
get a JB Case
Thats it. Thanks again for a great case...........Nate.
https://forums.azbilliards.com/showpost.php?p=3254694&postcount=21
acousticsguru/David
JB "rugged" case (= prototype?) - 10-15-2011, 01:56 PM
This is the most useful everyday case I've ever owned. Period. Weighs roughly 60 ounces empty and looks elegant, almost slim given all that (even a little more, if needed!) fits in! (Those self-made textile wrappers are for the playing cue extension and the jump cue butt – the large pocket has one side compartment for a jump cue handle, not long enough for both parts.) Stable, most versatile and space-saving 2x5 (2 butts, 5 shafts) = 3x4 (3 butts, 4 shafts) UltraPad interior that ensures everything is well-protected and nothing accidentally slips out of the case. Wish the interior weren't black (e.g. red or blue would be preferred), as I seem to be getting night-blind enough to where, in a darkly-lit pool hall, I'm unable to see the compartments. The L-shaped zippered pockets are a definite improvement over those on e.g. my Flowers Tribute 2x4, virtually impossible to get in/remove e.g. a ProJusta bridge head there, let alone tuck it under or over a rubber Q Claw cue holder. Pockets are not higher, but the softness and flexibility of the canvas is making things easier also (even so, an eighth or quarter of an inch higher pockets wouldn't hurt). The rubber bottom may not look like much but makes great sense – as slip-resistant as any. The case is light and very comfortable to wear over one shoulder (mine came with shoulder pad otherwise same as on the pictures on John Barton's web site) or – my preferred way – diagonally across one's back. The strap can easily be taken off, if one prefers. Would love to have a fancy tooled leather 2x5/3x4 JB case, but for the time being, this will do nicely!
Greetings from Switzerland, David.
https://forums.azbilliards.com/showpost.php?p=2738356&postcount=1
nksmfamjp
JB Case after a few weeks or so. . . - 12-02-2010, 06:52 AM
1. How well does it protect?
It protects great. What can I say, it is a JB Ultrapad interior. It lives up to that name and more. It has nice thick padding which keeps a gap between each piece. What is funny, is it does this all in a smaller case. This case is a 3 x 6, but from the outside I would swear it is a 2 x 4. Everything on this case is about protection. If I knock it over at the pool hall, the pieces are held down in the case, even when it falls over. With the zipper closed, it is as secure as is possible in a case.
I would say A++ for protection, but. . .of course, it's a JB.
2. How strong are the handles, straps and latches?
Everything is JB's best quality hardware, so no worries there. The handles are sewn directly to the case which makes them feel very secure. Thee back pack straps and pads seem to be a new method for John, but they pull the straps in tight and allow them to float loose. They are a similar shape and design to a real back pack strap. Good work on the pads and straps John! I have to add an extra attaboy in here because I was especially picky about this point since I walk to the pool hall.
Definitely, A grade stuff here.
3. How comfortable is the case to use?
I would say very good. Everything goes in easy and works as expected. The extra pockets are super. If you get a case from John, get the FR surface pockets! The only negatives are the backpack straps don't slide in and out as easily as a real backpack, but the are leather too, which might be more sticky. Also, the Ultrapad is so firm, I have to pull cues out by the JP's. This is the way I wanted it though. There is another interior which is a bit looser. Nice big zippers with pulls!
I would say A for ease of use. It is basically all A+, except for the sliding of the backpack straps which I think will improve with break in.
4. How well done is the fit and finish?
The outside is tight to the tube. The inside is well shaped. The pockets were well designed and constructed. I did special request they be extra tall pockets which makes them easily squished. Still, I need the height. All the details are right. The sewing, tabs, zipper pulls, zipper on the side, rubber foot .. . everything was well executed.
I would say A.
5. How well done is the decoration?
Most cases have tooling, or decoration. This is a daily use case. It's decoration is in the textured leathers and color patterns. Everything turned out well. Pretty good color balance. The next one will be made from the $30,000 croc hide!
I would say B, but this is a utility case. It does what it is supposed to well. I wanted this to be a C or D level as far as decorative quality goes. Besides I can't give all A's!
6. Intangibles
This is where JB wins you over. He was always easily accessible on Skype. He was good about emails. He understood what I was asking for. He was very reasonable when changes were made to things he had worked on. He did everything in his power to build my perfect case. He built this one my way and can build yours as you wish!
A++ here.
This case does more than any other case on the market IMO, and JB Case was the right kind of company to build it. I needed someone who would't be stuck on their previous designs and patterns.
Thanks John.
https://forums.azbilliards.com/showpost.php?p=3333766&postcount=3
Marcl3954
JB the best - 12-01-2011, 05:09 PM
I have a JB Case and I think it's super! (Instroke was his at the beginning)
He'll design one for you or alter a current design to give you a unique case.
His case also gives you the best cue protection you could ask for.
Check out his web site JBCases.com
https://forums.azbilliards.com/showpost.php?p=3344928&postcount=53
Standbykid
12-08-2011, 08:18 AM
Another vote for JB. I bought a prototype from John a few months ago. Best case ever!
https://forums.azbilliards.com/showpost.php?p=3294036&postcount=1
ACM/Andrew
The Scotland case, I call it the Heritage - 11-07-2011, 12:53 PM
Hi this is just a short review of what I call the Heritage case, I have had the case only a week.
Pics can be found here https://forums.azbilliards.com/showthread.php?t=251760
OK so the process took awhile, I went through Roy Malott of IndyQ for the initial order after finding out it could shorten my wait time on a custom case. Roy was a total gentleman and professional to deal with also with some great case ideas. I would totally recommend Roy and his business.
I did the initial order with the help of John Bartons very comprehensive order site. Then over the next few weeks I made some changes with the help of Roy. John and Karen then contacted me with a start date the waiting began. When the start date arrived I had had some new ideas and put them to John and Karen. I was amazed at how gracious they were to accommodate me after they had started the case.
Over the next few weeks we found that his team was having a problem with one of my requests, undaunted John worked very hard in getting through this and getting it perfect. He also did a few touches I didn't think of that also are fabulous.
OK so the case finally arrived it was like Christmas myself and my cues were very excited to finally see the finished case. I had seen many pics during the process. I can only say they did not do it justice.
The case came very well packaged took me awhile to open. Inside
the box and bubble wrap was a very nice soft cloth bag covering my case.
When I took out the case for the first time I was very happy. I then thought hey i'm a pessimist something is probably wrong. I checked the bag over with a fine tooth comb. Well i was very wrong, John and his team hit this out of the park. Every stitch perfect, no spelling errors everything exactly as I had asked.
OK about the case it is mostly a very thick dark brown oil tanned leather
with antiqued vegetable tan leather for the pockets and the window on the back.
The lid closure, chalk pocket, Joint protector pocket and personal pocket all close by magnet. The personal pocket also has two side zippers what a great idea.
The big bottom pocket has a zipper in the front and one one the side for a jump handle.
All hardware on the case is antique brass. All hand stitched in brown.
The inside is John's lovable hug, Oh and I put the cues in turned it upside down shook it and nothing came out. No false advertising there. The cues do not touch each other and are very happy in there new home.
The case is a 3 by 4 and weighs a hefty 6lbs 9oz.
So far everyone who has seen it loves it especially the art work.
I will do another evaluation to see how it holds up in the long term but I don't foresee any problems.
John and Karen thank you so much for everything as well as putting up with me during the process. Also tell your team thanks very much.
I will definitely order more cases from you.
Regards
ACM
https://forums.azbilliards.com/showpost.php?p=3395256&postcount=2
shamadam
01-09-2012, 11:36 AM
I have 2 JB cases. 1 Flowers Tribute (2 X 4) and 1 Prototype (3 X 6). I've tried
pretty much all of the custom cases. Murnak, Justis etc.....I even had a JB
interior installed into a Justis case. Bottom line, IMO JB cases are the best bang
for your buck by a country mile. Order a custom, and you'll have a ton of styles
and options to choose from. The price will be more than fair, and the delivery will
be faster than most. You wont regret it. Best interiors in the business.
https://forums.azbilliards.com/showpost.php?p=3395827&postcount=12
XPLAYHARDX
Case - 01-09-2012, 03:58 PM
when it comes to the interiors johns (jb) will keep the cue snug in the case. I was out playing one night late and put my tasc in my jb case and left in my car well when i got home i took my case out of the trunk and made my way across the driveway and into the house. Well when i went to set my case down i noticed i had put the strap over my shoulder upside down meaning my case was upside down and i had not zipped up my case when putting my cues away well because of my jb case all my cues stayed in the case instead of boucing around my driveway and if i had any other interior that night i would have been up for some costly repairs.
My two cents strikes again......to all a goodday oops forgot to add that the designs(exteriors) and workmanship are second to none as well.
https://forums.azbilliards.com/showpost.php?p=3405263&postcount=23
KCRack'em/Karl
JB cases - 01-14-2012, 11:58 PM
Of my cases past and present, I prefer my JB cases. I have a 2x5/3x4 hard case that I generally use. I also have a 4x8 butterfly case that I trust my nicest cues to. I sold my Whitten case after getting the butterfly case.
https://forums.azbilliards.com/showpost.php?p=3405281&postcount=31
attthecat
01-15-2012, 12:25 AM
Told John what I wanted and he NAILED it. NAILED it!!!
https://forums.azbilliards.com/showpost.php?p=2717026&postcount=22
SKUNKBOY/Ken
11-19-2010, 07:43 AM
I am the proud owner of the 'Graying' butterfly case (pictured in the OP...the snakeskin case) and I must say it is everything that I wanted in a soft case. I have 3 butts and 5 shafts that fit snuggly into the padded interior of this case and plenty of room in the pockets.
I get compliments everywhere I go. I am glad I got this case...no regreats at all. I'd gladly buy another from JB Cases but the way this one is constructed, I think I'm done buying cases. I have spread your brand name around a bit and I hope you get an order or two from it.
Thanks for the great case and keep up the innovations.
L8R...Ken
https://forums.azbilliards.com/showpost.php?p=3407663&postcount=37
metallicane
01-16-2012, 10:09 AM
I love the interior you did for my butterfly case. I can now pull out a shaft or butt and not worry about the zipper scratching it. Other cases like this I had to be very careful to hold the shaft away from the zipper.
https://forums.azbilliards.com/showpost.php?p=2250932&postcount=15
ibuycues/Will Prout
(High Country) Phenomenal Case............ - 01-31-2010, 11:01 PM
John,
I would have responded to this thread earlier, but was at DCC where I proceeded to get really ill. It turned out to be a crazy virus that wanted to do some wild dances on my insides for a couple of days, followed by some lumbar screaming for a couple of days, but I am now home and on the mend.
This case is simply phenomenal. The tooling seems to fit the case perfectly in its design layout, both the tooling and case construction are flawless in execution, and overall the case is likely one of the best cases ever made. (The Palace Garden may still own that description). As you can tell, I could not be more pleased.
The way the lid snap is reinforced by shaping of the leather is really, really a good idea and also adds to the look. The upper pouch has a magnetic clasp which is fitted and recessed in a very unique way. I hope you have a picture of the upper pouch open to show this innovative feature. The upper pouch also has a side zipper to increase ease of use. The tooled handles also add very positively to the case.
I am a happy camper! Please pass my sincere thanks on to all who contributed with you in building the case. Particularly the tooler! And I also thoroughly like the fit of the interior to my cues. You would get a positive kick out of seeing the two cues I have currently loaded in the case. If I ever start taking pictures, I will be dangerous.
BTW, where can I find one of the cue balls like the one you have in your pictures? I would like to keep one like it in the ball box (another wonderful feature of this case, a matching ball box!).
Will Prout
https://forums.azbilliards.com/showpost.php?p=2158800&postcount=13
cyberrot
12-07-2009, 08:08 AM
John is very kind to me by just describing me as patient.
He forgot to mention that I am a troublesome customer as well.
Yes, I am the customer from Singapore who own this cue case.
John has been very patient with me despite my extensive demands especially for the elephant print leather as I wanted this leather badly for the case.
I liked the pockets from the Sterling Wave cue cases and I asked John if it was possible to install them on my case. He agreed to my request instantly despite the fact that he has not installed any of these pockets on his custom cases before.
He managed to pull it off almost within 1 week, which I think is quite a feat as he managed to install and align the pockets to make it look nice on the case.
In addition, John used black rivets for this cue case, which makes it more attractive. Personally I think that that the cue would look loud if the normal shiny metal or brass rivets are used instead.
When I first received the case, I checked the case all over a few times to check for any minor flaws or imperfection but I could not find any.
Instead there was a pleasant surprise of a hidden jump cue butt in the long pockets. It is a small sleeve which really protects the jump cue butt. John really thinks of everything when it comes to cue protection.
This case has everything that I look for in a cue case:
1. Good internal and external protection for my cues.
2. Simple yet elegant looks.
3. Roomy pockets for me to put ALL my accessories into it.
4. Comfortable back straps which make it easier for me when I take the train or buses to pool halls here in Singapore
5. A design which is not too similar to the Flowers style or Instroke style.
Overall, I am 100% glad with my purchase and the quality of the case.
I feel 100% satisfied and happy for deciding to get a John Barton Custom case and I think I will get more in the future if my cue collection expands.
Thank you once again, John.
A very happy John Barton Custom Cue Case customer
|
V
https://forums.azbilliards.com/showpost.php?p=2687927&postcount=1
atthecat/Monte
Well, John knocked it out of the park again as far as I'm concerned. I was really inspired by the case he made for Chris so he made me one. It is a 3x5 with the secure tubing and has a top pocket for JPs. The flap on that has a magnet in it for latching. The photos don't really capture the color of this case unfortunately. It's really a rich dark brown.
John was VERY easy to work with. He listened and made a couple of changes with no hesitation. He sent me a bunch of details and pictures along the way. If you're thinking of using John for a case, don't hesitate for a minute!
Usually I get something I've ordered and there are one or two things that bug me or are done a little sloppy. I can't find one flaw on this case! The craftsmanship and design are flawless.
Thanks John and crew!
https://forums.azbilliards.com/showpost.php?p=2990243&postcount=21
ToomnyQs
My 3x6 Just Arrived! - 04-29-2011, 06:00 AM
I just got mine yesterday..John is a master case builder IMO and knows how to treat his customers right. He and Karen were in contact with me from start to finish making sure it was just what I wanted and they were always willing to change or redo anything that wasn't exactly as I wanted it..Outstanding service!!
https://forums.azbilliards.com/showpost.php?p=3539211&postcount=1
Murray Tucker
My New JB Case - 04-07-2012, 06:49 AM
A long, long time ago in a internet pool forum far, far away John Barton was involved in a online argument (shocking huh?). Anyhoo at some point he proclaimed that he was done with the thread and if he posted in it again he would give me a free case. Why me? I don't know but he did not post again and the thread died. Months later someone revived the thread and John, forgeting what he said, posted. Of course I chimed in with "Woohooo.........free case. Of course knowing how John is on paying bets (for those around durring the RSB days you are laughing, if you weren't just trust me that it was funny and chuckle) I really had no expectations.
Fast forward to the SBE. I stopped by the booth to see John as I always do and was given this great leather case. It has a good mix of rugged and elegant looks. The magnetic latch on the pocket is too cool and of course the interior is very plush and holds the cues snug.
Thanks for the great case John.
https://forums.azbilliards.com/showpost.php?p=3361170&postcount=1
Bruce de Lis
"ARIZONA" - 12-18-2011, 06:24 AM
My NEW JB Cases arrived a little over a week ago, and "Arizona" is what John Barton named this hybrid version of his "All Paul", inspired type Pool Cue Case.
My Arizona Pool Cue Case is either 2 Butts x 5 Shafts, or 3 Butts x 4 Shafts configuration, it has a Zippered Jump Butt Compartment, and also a Jump Butt Protective Sleeve for added protection incorporated in the Pool Cue Cases 18" Long Lower Pocket.
That Long Lower Pocket has John's SUPER NEATO "L" Shaped Zipper for ease of access to the Long Lower Pocket, so you do not need a set of surgeon's forceps to grab the items from the inside depths of the Long Lower Pocket with the "L" Shaped Zipper, as your hands will fit just fine with easy of access, and the Long Lower Pocket Pocket holds my 16" John Hager Extension with no problems.
The Arizona Pool Cue Case was ordered with John's UltraPadTM Interior so each Cue Butt, & Cue Shaft Section fits snugly & safely like a baby wrapped in a receiving blanket. Giving each Cue Butt & Shaft Section great protection.
Up top there is an 8" Upper Pocket with a built in Chalk/Joint Protector Holder, that Upper Pocket also incorporates a Zippers running in a semi circle around the upper portion Pocket for easy access to the entire storage area. The Pool Cue Case's Top Closure is a Barton Puzzle Latch magnetic type closure with no moving part to break on the Main/Top Cue access closure.
I did ask John to make the Pool Cue Case's (2) POCKETS a extra 3/8" deeper than his normal depth of 1-1/4" deep pockets, and that extra depth worked out just great for storing a couple of "thick" items I carry, like my Pro-Just-A -Bridge creating no strain, or puffiness on the pockets.
The Pool Cue Case weighs in at a lean 6 Pounds, 2.0 Ounces including the detachable towel ring that weigh almost 1.5 Ounces by itself. No I have no weighted the Case full with 2 Butts x 4 Shafts, and the junk I seem to always put in my Pool Cue Case.
The Pool Cue Case's bottom features what I like to call the "Barton Non Slip Foot", or AKA The Big Rubber Foot on it, so the Pool Cue Case don't Slip on floor like tile, formica, or some slippery floors when leaned against a wall in a Pool Room/Sports Bar/Bar.
John and I went back & forth on design, elements & features I wanted in this Pool Cue Case. I wanted simple tooling design, not a lot of flash carving, so in the end hand colored contrasting colors & creative stamp tooling design by Karen, John's wife was the answer. Some stippling tooling to fill empty leather spaces was incorporated for contrast. The Pool Cue Cases body leather color was dyed a dark dark brown with some leather grain still showing character, and I think the Pool Cue Case all came together well, and the look turned out great IMHO.
One of the features I wanted was the Pool Cue Case's Side & Top Handles to lay flat when not in use like several of the other Pool Cue Cases on John's Web-site, and that idea was incorporated as easy as 1, 2, 3, and worked out really cool.
John's Non Slip Shoulder Pad design rocks , as it don't slip off your shoulder, dig into your shoulder causing pain, don't harm the clothing you are wearing, and that Non Slip Shoulder Pad could not work any better on a long walks carrying weight.
I honestly think John, and his Team have hit another Home Run out of the Ballpark with the Arizona Pool Cue Case, and I am one happy customer. John and his team of craftsmen & women pulled off another great project per my wishes. Honestly I think John, and his team's craftsman's construction, and attention to detail could not be any better.
The other day I took the Pool Cue Case over to be seen by the people that belong to our community leather working club. They always get to see my JB Cases as I respect their opinion, criticism, and compliments, and everyone gave JBCase's work nothing but a lot of compliments. A few of the members have 20 or more years of leather working experience, critical eyes that know great from only good, or fair, or marginal leather work. All that I heard from these people was compliments on John's & his Team attention to details after a few of the members gave the Pool Cue Case a very close inspection both inside, and out. Checking out how the pockets were constructed, the "L" Zipper, Stitching, etc. The overall opinion of John & his Teams works was they are execution, and producing a very very high quality of leather working.
https://forums.azbilliards.com/showpost.php?p=3171560&postcount=1
Djay Customs
Today I received a prototype JBCASE!! - 08-25-2011, 04:45 AM
Today I received my JBcase prototype 3x4/2x5
- it was good packed!!!
- fast delivery!!
- case is great!!
- leather and high quality vinyl!!
- good communication!!
I wanna give John and Karen Barton all the credits, for the communication and the fast delivery and offcourse a great case!!!
thanks John&Karen!!
https://forums.azbilliards.com/showpost.php?p=2807071&postcount=24
Roberto
01-10-2011, 10:39 PM
This is what Roberto had to say about the cases.
"John,
I just got home from vacation today and the first thing I did when I got home was open the package you sent me. Wow ! What a great way to start the new year.
I'm very impressed with the attention to detail; Not only of the design of the two cases but how it was shipped. The packaging was phenomenal, I was shocked to see color coded suede covers for each pool case - Nice touch. The suede covers made me feel like I was at a show where I had to unveil the curtain before I was able to see the work of art. Trust me when I say that I felt like a little kid on Christmas day opening presents.
Despite seeing the pictures you sent me and the You tube Video ( very nice of you to do, by the way) of the two cases before receiving them, I was still stunned of the craftsmanship that went into the making these two gorgeous cases. You were right, the pictures that you sent me on the cases does no justice. The tooling on the leather jumps right out at you. Each time I look at the lacing on my case I think of Karen's hands and fingers - please send her my thanks, I know that was hard to do. The basket weave on my cases line's up perfectly and despite having reservations on the size of the shield on the back of my case I think it came out awesome, Exactly what I wanted.
I love how you took my brother (Mario) and my ideas and translated them to make this work of art. You and your team are true professionals and are the top of your field when it comes to leather work and cue protection of pool cases. I'm very happy to have your name and zhen Hai names associated and showcased with brothers and my case.
The only disapproval I have is I wish you would have sent me more business cards because I feel I will run out of them very fast.
I wish you and your family a prosperous new year.
Thank You"
https://forums.azbilliards.com/showpost.php?p=2724546&postcount=1
yally
My first John Barton - 11-23-2010, 01:33 PM
I've had cases by Swift, and Justis, but this is my first Barton. I'm used to the tube style, so going to a soft butterfly was new for me. Also, I've never dealt with John before, and have only seen his posts on AZ.
From the beginning, John was not only quick to reply, but courteous and very easy to deal with. Shipping was only two days from China, and the quality of the work is superb. Packed well for the trip, it also arrived in a velvet-like soft case.
I loved the colour (dark cognac), but I was wondering about it being vinyl and not leather. John posted a clear explanation that this wasn't leather, but the pics really looked great. Well, I understand how they could be confused, as the colouration, and texture are wildly similar.
I was concerned about the protection with a soft padded butterfly. However, so far cues all feel snug, and well protected in the interior. Case is also well built, and all the seams and straps are quite strong.
Overall, a big thumbs up, and thanks again John for the great service!
https://forums.azbilliards.com/showpost.php?p=2359504&postcount=1
Lazerrus
My New JB 3x5 Tube Style - 04-07-2010, 09:49 AM
I have been saving for this case ever since I fell in love with it at the WCCS. Now it's finally here! It's a JB 3x5 tube style. Not that I don't like JB's ultra pad but you just can't beat tubes imho and John's work on this case is just incredible. Very very solid construction and the Leather is ultra thick and butter soft to the touch. I am not much of a tooling guy. I just wanted a nice smooth clean case and this is it. This will be my new player's case and should last me the rest of my playing years. It has some weight to it but that is ok by me because I'm a big guy and i'll take a little weight for the ultra protection this will give my cues. Thank you John Barton for making this incredible case.
https://forums.azbilliards.com/showpost.php?p=2275573&postcount=1
runout1961
My New 4x8 John Barton Case - 02-15-2010, 10:28 AM
I first want to say thank you JB for completing yet another work of art. I would also like to thank you for listening to me and creating the exact case I was looking for.
As most of you know I am a "simple" guy. I believe less is definately better. This case is nowhere near as fancy as some John has created but for me it is absolutely perfect. I love the clean, simple, classic look. I feel very fortunate to own such a fine case to house my cues. I am sure the Gus will fit nice and snug.
Too bad I will not be seeing the case in person as I cannot make it to the Expo this year which really pisses me off. But, knowing this and other things will be waiting for me upon my return home next year will definately motivate me to get through this year.
So for now, enjoy the pics folks.........take care.
https://jbcases.com/vault.html
https://forums.azbilliards.com/showpost.php?p=3233580&postcount=1
SugarTree - 10-02-2011, 05:34 PM
https://forums.azbilliards.com/showpost.php?p=3233583&postcount=2
qbilder/Eric Crisp
10-02-2011, 05:44 PM
I use it a lot, buddy. It's an awesome case, exactly what I asked for. I asked John to make me a 1x2 the way he wanted to. All I wanted was the small pocket. I didn't ask for any specific leather or color. And I never nagged at him. When he gave me the case I was blown away. He picked leather as carefully as I pick wood. Perfect case for me. Natural leather, no stain or special adornment, simple design, and just enough flare to make it classy. Thanks, John.
https://forums.azbilliards.com/showpost.php?p=1658507&postcount=1
ridewiththewind
I received my 2x4/3x4 configured Sterling 'Wave' case shortly after the New Year...and when UPS decided to finally dig it out of one of their trailers after our PNW 'Arctic Blast'. I have had a little over a month or so to get acquainted with it...and gotta say, I am pretty pleased with this case.
I requested the black/brown 'tooled' vinyl version of this case. The vinyl is different than the Skai vinyl that was used on John's Instroke Premier line....but still appears to be VERY durable. I have been just tossing this case into the back seat or trunk of my car, and no visible scuff marks and/or tears that I have noticed. It does look like a tooled leather case. Good stuff, and I have received many compliments on it.
The case also comes with padded, ergonomically-shaped dual backpack straps on the back, which are easily removable for when you just do not need them. I did notice that the placement of the bottom ring for the straps is such that it should not get accidently snapped off when the straps are not in place...good forethought here.
This case has what I would call a 'flatter' profile, and as a result, what the double pockets on front lack in depth, they make up for in width, and I have yet to fill either pocket all the way up with 'stuff'...LoL. The case features self-healing zippers, and I have experienced no problems with them whatsoever, and I am in and out of both the case itself and especially the pockets all the time.
Now as to the interior...this case looks inside very much like that of John's higher-end cases, and is quite 'cushy'. It also features the Organic Rebound system that John came up with. What this means is that when you open the case, the butts and shafts 'pop' up for easier access. No tipping the case upside down or digging in to retrieve either butts or shafts. I selected the 2x4/3x4 configured case. John has managed to figure out where the wasted space in the traditional 2x4 config was, and he utilized it to offer the option of carrying an additional butt. So, basically, you could carry one butt and two shafts, and then one butt, one shaft, one butt, one shaft....or two players and a J/B.
The stitching on this case is terrific, as I would have expected from a case that John had a hand in...and the 'Wave' design is both interesting and unique. As I have previously stated....I get lot's of compliments on this case every time I take it out. The case is also relatively lightweight, which is why I have been using it exclusively since I got it. In the past I have not usually carried all of my cues with me because I just didn't care for carrying all that weight. The handle on the case is round and quite comfortable for carrying.
I would have to say that all in all...I am pretty happy with this case. I think it provides a great option for those who either cannot afford a higher-end case, or just do not wish to carry one on a daily basis. In other words, you are getting all the important benefits of John's higher-end cases, but without the cost of a custom case. A definite recommendation from me!!
Lisa
https://forums.azbilliards.com/showpost.php?p=1644439&postcount=1
skor
How about a case review? - 02-01-2009, 12:38 PM
This is a 4x8 Sterling case with the new JB interior.
Exterior:
The Vinyl quality is nice, not as nice as the Instroke Premier but for the price ($90 for a 4x8 not including shipment and taxes) it is very nice.
The long pouch does not have a side compartment for a jump cue handle which is a shame because I doubt if having it would have made this case more then $2 more expansive to build.
If you must carry a jump cue then it'll fit nicely inside the long pouch, even with a joint protector, so you can roll it a hand towel to protect it and you're good to go.
Both pouches are high enough to accommodate a pool ball with no problems.
All zippers are running smoothly and since they are made of some kind of soft plastic, it will probably not hurt the cues.
The strap and handle are the same cheap ones that we've seen on Sterling and other cheap cases in the past, but really for $90 you can't ask for more. For me, it's not a big deal as this case will not leave the house and will be used for storage only.
Interior:
The dividers look thick and cushy... something that I haven't seen on any other 4x8 tubeless cases before. This spec is what made me want this case. Well the sad news is that the dividers are only that thick for about 2 inches.... after that it is a thin divider (still protective but thin)... I guess there is no way 4 butts and 8 shafts would have fitted in there if the dividers would have been thick all the way down.
My case comes with that "Organic Rebound interior" which I believe (correct me if I'm wrong here John) is simply due the the fact that the compartments that hold the cue parts is a shorter elastic "sock" so it is stretched when a butt or shaft is inserted but jumps right back up. I guess if the dividers were thick all the way down you could not create that "pop up" effect.
4 butts and 8 shafts do fit in it BUT its very crowded, too crowded if you ask me, the fit is very tight and I doubt if I'll hold 4 butts and 8 shafts in it on a constant base, I'll probably hold in it 2 to 3 butts and about 6 shaft. (Unless I'll win more raffles and won't have any more "cue space" )
The Bottom line:
For $90 (even for $150) it is the best 4x8 case that you can get.
I would rather have it a bit bigger so cues will be more "relaxed" and have the thick dividers go all the way down.
I would also prefer not to have that "pop up" feature, so the cue parts won't stick out for about an inch into the open space of the lid.
But for my current needs as a storage case and mostly for shafts then it fits me just right!!!
https://forums.azbilliards.com/showpost.php?p=1795807&postcount=1
Buster8001
Sterling 3X6 Review - 04-30-2009, 06:52 AM
I just received this case yesterday so I dont know how it will hold up or last, but I think it is well made so it should do just fine in that department.
The case I bought came with their new interior with the Organic Rebound feature. I have to say I really like it. All cues fit bumper down and all cues fit with JPs; plenty of room. Two nice ample zipper pockets on the front. Shoulder strap and a padded handle in the middle between the front pockets. If I had to nit-pick and find one negative; it would be that the zippers on the cue compartment are very tight. But there are two zippers, so it isnt that bad.
All in all I am very satisfied with this case and would recommend it to others.
Josh
https://forums.azbilliards.com/showpost.php?p=1798749&postcount=2
poolfool1957
05-01-2009, 07:57 PM
This is one nice case for the money. It looks great and is quite light for the size of the case. I bought the 4 x 8 to put less cues in and still have a little elbow room in the case and it has turned out to be perfect for my purposes with the exception that there is no pocket for my jump butt. If I put the butt into the large pocket it has to go in that nice roomy space all by itself unless I want to risk damage to it. Other than that it's a winner in my opinion.
https://forums.azbilliards.com/showpost.php?p=1799963&postcount=3
chin0
05-02-2009, 07:34 PM
I love the 3x6 I have. Great case for a very very reasonable price. Very sturdy case, I have a It's George-V case (2x4) and I would pick the sterling over it anyday. As a matter of fact, I don't even use the It's George case lol. It has a very sturdy exterior, the vinyl is a bit thin and can rip easy compare to real leather. The padding and protection is great! One of my zippers broke, but just never got a chance to ship the case back to Sterling for repair or replacement. The compartments for accessories are huge and can hold almost everything you want to bring along. Great case!
https://forums.azbilliards.com/showpost.php?p=1782125&postcount=9
billyjack
My Wave case review - 04-22-2009, 04:22 AM
My Sterling Wave Case Review
Recently, I was fortunate to win a Sterling Wave case from John Barton in his generous contest. All that was asked in return was an honest review, so here it is. I've never owned a true custom case. They have all been production models, up to and including an Instroke, so consider my experience when you read my opinions. The model is the Black and Tan embossed style, which is designed for a 3x4 or 2x5 configuration.
Interior features: I'll start here (and be a little wordy) because IMO that should be the buyer's primary concern when purchasing a case. The Wave uses a system of firm but flexible soft tubes. The dividers flex easily, but do not compress enough to allow components in adjacent tubes to come in contact. I decided to use a "joint-down" configuration to keep chalk out of the tubes. I use joint protectors 100%, and I made sure my j/p's had rounded edges so that no tube material would be snagged during insertion or removal. The underside of the lid is covered in the same vinyl material as the outside, so chalk residue from the tips is easily wiped clean. Because of the snug configuration, when fully loaded, you need to remove a butt first before removing a shaft when the joint-down configuration is used. I assume it would be the opposite if you stocked it joints-up. At anything less than a full capacity load, the tubes give enough that you can load or unload without regard to any sequence. Also, for those who stand up assembled cues in their case while playing, no problem, since space is only an issue when fully loaded. I don't consider using a loading/unloading routine to be a detriment at all. Actually, I feel more comfortable with the snug fit than having components bouncing around in a hard tube.
Unlike many other cases with a zipper lid, the zipper teeth are set lower than the case rim, so you'll never drag a shaft or butt over the teeth-definitely cool. The interior material is of a texture that is neither slippery nor clingy. If you accidentally pick up the case with the lid open, your shafts and butts won't come flying out. The interior is equipped with an "organic rebound" system that provides some natural spring action inside the tubes. You can actually give the case a shake when opened, and all the components will rise up slightly. I've not found this necessary, as all components are easy to access and grip, even with a full 3x4 load. In that respect it's better than an Instroke 2x4, since the shafts sit considerably lower than the butts in the Instroke. All in all, the interior is the absolute best I have ever seen in any case, regardless of price. Cues are held snug but not tight in all directions, well padded, and the shell feels fairly stiff, especially for the empty weight of under 4 lbs, so I'm pretty confident of the Wave's level of protection, though I hope never to test it. Definitely an A+++ grade IMO for the interior.
Exterior features: Despite its large capacity, this case is slim, only 2 5/8" X 5 3/8", not including pockets or handle. There is no top handle, but the trim size makes it easy to grab from the top. The side handle is a pre-formed soft material, balanced well, definitely the most comfortable handle on any case I've had. The Wave is equipped with two rear-mounted shoulder straps for backpack-type use, but I only use one. The shoulder pad is very wide and long, with a crescent shape, and a non-skid texture on the inside. The textured surface grips your shoulder well, even with only one strap. Feels like it would be quite comfortable for a long haul, but long-term carrying is not an issue for me. It's usually just to and from the car, so the side handle gets the majority of use. Unlike many other cases, there are no rings of webbing around the case at the handle or straps, which I consider to be a glaring sign of a cheap-ass case. Hardware is all plastic, but seems substantial. Pockets are quite large, about 5X8" for the top, and 5X14" for the lower. The pockets are actually curved in profile to match the case body, so they appear slimmer than their actual size. Depth is only about 1 1/8", not enough for those who carry their own CB, but more than enough room for my stuff. There is no separate provision for a jump butt, but plenty of room. I guess you can't have everything when you're trying to keep costs reasonable. The pocket zippers encircle three sides, and are very smooth. Lid zipper is not so smooth, as it binds around the tighter curve of the case sides. A minor annoyance, but hopefully it will loosen up with more use. There are no feet on the bottom, but the material is the same non-slip texture as the inside of the strap.
Appearance: I left this section for last, since it's purely personal opinion rather than evaluation. The Wave is obviously designed in a modern, non-traditional style, with some attention-grabbing contrast in colors. Frankly it's a little wild for my AARP-age taste, but might be fine for yours. My black / tan model has a stamped embossed pattern throughout, which makes it look and feel cheaper IMO. A softer-texture, more leather-like vinyl would suit me just fine. The seam where the tan and black materials meet has some pronounced ridges rather than a flat, even seam. Hopefully, this was just an early production flaw that got through QC inspection. Color and material aside, the Wave has a sleek, trim appearance, much more appealing to my eyes than the boxy cases on the market. It's definitely not your grandfather's cue case.
Overall: If you made through this lengthy dissertation, you're likely considering purchase of a Wave. IMO it's a simple decision. The only "If' in the deal is the looks. Find a color combination that suits your preferences, and it should be a done deal. With only minor exceptions, the features, protection qualities and ergonomics should put this case at the top of anyone's shopping list. It's that good. After only three months I'm spoiled. If I could build my own dream case, I'd take my Wave; replace the exterior vinyl with buffalo-style leather and the plastic hardware with brass. I better start saving up $$ now. My next case is gonna be expensive.
Bill
https://forums.azbilliards.com/showpost.php?p=1782619&postcount=10
sygfrid
04-22-2009, 09:36 AM
My 1st wave case was a 3x6 Orange-Black model which was part of the early batch that was released mid last year during the BCA Expo. When I got it, I quickly sold my Instroke Buffalo because, feature-wise, it surpasses the Instroke, IMO. It's a lot lighter and more compact than an Instroke of the same capacity (mine was just a few mm ticker than an Instroke 2x4 but has almost the same width). I've gotten it for almost a year now and I still haven't had any problems with it... It's also quite a head-turner if I may add
Late last year, I needed more room for my other cues, and since I normally take 3 cues with me, I opted for another wave case with the 3x4 configuration. The new wave cases have improved a lot from the 1st batch: pockets are now padded, the lid & the cap shut completely thanks to the lined-protruding part of the case's shell thereby sealing the cues from more moisture & climatic changes (a feature in which most zippered-lid cases fail, imo), the cap and the handle are now padded, the straps are really ergonomic & comfortable, the base still has the non-slip material and but sealed better. Moreover, I tried soaking the pocket with water to see if it's water-proof. Although mine got soaked, perhaps due to the nature of the linen that was used on mine, the water didn't penetrate through the other side of the pocket even after several minutes of trials. The linen rejected the excess water after reaching its soaking point. Perhaps John Barton can confirm if the new Wave Cases are water-proof or water-resistant
For the complete review, kindly search for my posts as I don't have the patience to look for them.
Going back to the question: what do I think of it? For me, the wave case is one the best everyday case available. I've sold all my Instrokes and Predator case and gotten these instead because I'm so happy with their features especially when it comes to cue protection. These are the ones that I'll use until I'm finally ready to place an order for my very own custom case by JB.
https://forums.azbilliards.com/showpost.php?p=1766280&postcount=1
Steve
John,
I wanted to let you know that I did pick up the Sterling Tan/Brown Wave Pool Cue case at the super billiards expo. I absolutely love everything about the case. The interior is like nothing I have seen & protects my cues quite well. The design of the case itself is stunning. I receive compliments on this case wherever I go. I had to drop you a note and let you know what an awesome product you have created & if you ask me...the case is underpriced. I would have paid more for such a high quality well designed product.
- Steve
https://forums.azbilliards.com/showpost.php?p=1833165&postcount=1
tuffstuff07
Sterling Wave Case - 05-21-2009, 09:54 PM
Well I finally got my sterling wave case.
I got the silver and green and it looks great and I got a couple nice comments on it.
Heres my Review on it.
Pros
Looks Great and I got a Great Deal on it.
Holds 3x4 or 2x5 for Cues.
Large 1st pocket.
Protects Cues very nicely
Springs Cues up to take them out easier.
Two straps to carry it.
Its the size of my 2x4 McDermott but can hold more than it.
John Bartons Excellent Help and Service.
Cons
Bottom pocket hard to get stuff to stay if you open it all the way.
One Zipper broke already because it was so tight (dont know if they are all like this but mine was)
John said he would fix the zipper whenever I am ready so I added great customer service.
Overall a great case for the money and would highly recommend them.
JB did a great job designing these.
https://forums.azbilliards.com/showpost.php?p=2392049&postcount=1
Mike in MN
Sterling Wave Case Review - 04-27-2010, 11:48 AM
Okay, so maybe this should be in the product review section, but let's face it, that gets like seven hits a day. I want people to actually read this review.
I got my Sterling Wave 4x8 case today, and my first impressions have exceeded my expectations. I'll start with the outside, and we can work our way in. First of all, the overall appearance of the case is quite nice. I purchased the blue and black, and I am very pleased. It's got two shoulder straps so the case can be carried backpack style, and they're both very comfortable and sturdy. Time will tell whether or not I keep both straps, as I may only need one, but if I were to decide I didn't want both, I could simply take one off, as they are removable.
There is a handle on the side of the case as well, and again, it's very sturdy, but more surprisingly, it's quite comfortable. My old case has a nylon strap handle that's got a rubber/plastic-type coating on it, which makes it somewhat uncomfortable to carry.
I know there were zipper issues with the older models, and I know they have since been fixed. With that said, all of the zippers on my case work just fine and seem to be of very high quality. The zipper pulls are oversized, (probably close to 1-1/2" long), which is a welcome sight. Too often pulls tend to be too small, and this is just one of the many minor details that was not overlooked.
There are two pockets on the front of the case for storage. The first, near the top, is the accessory pocket. It's generously sized at 7-1/2"x5" and the BEST part about it is the zipper. It actually unzips almost all the way down the entire length of the pocket. There's nothing worse than a nice, big pocket that only unzips a few inches and leaves you digging around in blindness looking for a cube of chalk or your tip tool. With the Wave, you can basically unzip it and fold the pocket all the way down. Again, another detail that was carefully considered. The bottom pocket is also a great size, coming in at 15"x5". As with the smaller pocket, it zips almost the entire way down. It's got a super soft, cushioned mesh sleeve on the inside to hold a jump cue butt, and I EASILY fit in a box of 12 Master chalk, a box of 2 Blue Diamond chalk, a towel, some old tip tools, and my jump cue butt with plenty of storage to spare.
Onto the inside. From what I understand, the interior was designed by John Barton of JB Cases, and he did a PHENOMENAL job. Both the cue butts and shafts fit snug, but don't need to be forced down into the case. They simply slide in, and with a light push with one finger, they find their home. They are completely protected from movement, and the soft padding almost forms to the shape of the cue. The first test I put it to was this: I put one shaft in the case, nothing else. I turned the case upside down, and the shaft didn't move. That is evidence of how well the interior supports the cues. Then I put all of my cues in, three butts and five shafts, and not one of them was difficult to get in or out. And again, they didn't fall out when I turned the case upside down. Incredible.
This case truly is a fantastic piece of equipment. I very highly recommend it to any and all seeking an appealing case that will protect their investments to the fullest extent. One of the best parts about this case, though, is the price point. It is extremely affordable. This 4x8 case was $150. The 2x5/3x4 goes for $135 I believe. At that price, you won't find a better deal.
https://forums.azbilliards.com/showpost.php?p=2544632&postcount=14
Georgia Boy
08-03-2010, 08:00 AM
I have just bought a Sterling Wave (I got the 4x8) and I could not be happier, its as good as I have seen anywhere. The thing I liked most about it is the inside protection, it's the same as many Instroke Cases, it should be good it was designed in conjunction with John Barton! The pockets are as big as you will ever need, but again security of my cues was the most important. I spent several weeks researching and comparing cases and for the money this is truly an outstanding value. You will find other posts on AZ about them and I have yet to see a bad review.
I have the Black and Brown 4x8 and pictures don't do it justice and although not a true soft case it's kind of a hybrid.
https://forums.azbilliards.com/showpost.php?p=2420726&postcount=5
twal
05-15-2010, 05:00 AM
I got my tan/brown Wave 4x8 case yesterday.
I have to say it looks a lot better than what I was expecting.
The case is like half the weight of my old one.
I do like the interior. I have not tried to completey fill this thing yet. But I presume this going to handle as advertized.
It said that it can take 31.5" butt. I don't know about that yet. However I have 31" butt on order so I will find out if that is true or not.
I like the size of the pockets. both top & bottom.
IMO you have a nice size pockets when you measure width x height. However there is not enough material on th sides that would actually give these pockets the volume that I had expected. Yes there is the jump sleeve. I like that. I just think there could be another 1/4" or 1/2" material there to allo more space for all of the junk I carry around
Otherwise, I think theses pockets are fine for the normal user.
Finally, the straps seems comfortable. Not sure if I would ever use both of them at once like a back pack.
https://forums.azbilliards.com/showpost.php?p=2801474&postcount=16
Breaking Bad
01-07-2011, 04:39 PM
I got my 3x4 today and it looks great. Its well above my 2x2 case. The pockets are nice and big and open more fully than other cases. It seems a little cramped for 2 cues and an extendable bridge shaft. It all fit, but its pretty tight in there. I would eventually like to fit another shaft in which it is supposed to handle, but I may have to upgrade to the 4x8 just to hold what this one should.
Update: 1-16-11
You're right John, this case holds my 3 butts and 2 shafts well. I needed to put the butts in "bumper down"
Great case
https://forums.azbilliards.com/showpost.php?p=2807191&postcount=18
PaulieB
01-11-2011, 01:09 AM
Can't say enough about the quality of these Wave cases for the money you have to put out for them. Nice and lightweight to cart around, quality components, zippers, etc ... including the 2 shoulder straps if you want to backpack it.
And yes, they are TIGHT, but if you load them according to John's video it does fit everything easily. To me, tight means protected, rattling around could cause issues.
https://forums.azbilliards.com/showpost.php?p=2843787&postcount=19
Maniac
02-02-2011, 08:33 PM
After a 12 month wait (for a black one), I finally got my Sterling Wave 4x8 case a little over a week ago. It's everything I was hoping it would be. Got mine for $137.00 because the distributor thought I deserved a discount for waithing so long for it . I have a Jacoby custom butt that I ordered that was to be 31" in length, but if you measure it from the tip of the buttcap to the tip of the pin, it measures 32 3/16" long. It fits in my Wave case, but not with a j/p on it. Puts a small indention in the inside of the lid, but what the heck, at least it goes in!!! I had no problems getting 4 butts/8 shafts into it, but then I watched the video of John showing us how to load the case. Great case, especially for the $$$.
Maniac
https://forums.azbilliards.com/showpost.php?p=2997781&postcount=1
Spooled
Just got this today, Sterling 2X4 Hard Case. $75 shipped to my front door.
I love it it. This is my first case, I dont know why but I think I will play better having this, it doesnt make any sense but thats how I feel when I look at this. When I strap it sideways across my back it feels like a QUIVER that I slide arrows into! Totally solid protection. Motorcycles, jumping fences this thing ranks high on the mobility scale(dont know if thats a reeal consideration for you in a pool case or not) I love it. I feel organized. Anybody else shoot better after getting a nice case?
https://forums.azbilliards.com/showpost.php?p=3153484&postcount=25
yankeepapa/Pete
08-13-2011, 01:26 PM
Sterling Wave 4x8.
Commodious, protective, light, easy carry.
Well executed. Fiendishly well designed interior.
Pete
https://forums.azbilliards.com/showpost.php?p=3064180&postcount=5
jalapus logan
06-17-2011, 08:16 PM
I like my Sterling Wave case. Interior is just fine, better than fine actually. Great case for the $.
https://forums.azbilliards.com/showpost.php?p=2183740&postcount=1
spliced
Sterling 2x4 hard cue case - 12-21-2009, 12:58 AM
Recently purchased this case from sterling and I must say it is definitely the most economical and best protection for the dollar of any case on the market. I had originally planned to buy a knockoff for $120 more but changed my mind at the last minute and I'm so glad I did. This case is very well made and has everything I needed, including pocket room and light weight. It features Barton's cushioned dividers and organic rebound which keep your cues snug and secure without being too tight. Customer service has been excellent as well and overall I am very happy with my purchase.
https://forums.azbilliards.com/showpost.php?p=2236760&postcount=4
greenlight
01-22-2010, 02:53 PM
I recently got a 2x4 sterling case as well and have nothing but good things to say about it. The interior is great. Everything is easily accessible. I recommend them to everyone. Great price too.
https://forums.azbilliards.com/showpost.php?p=3196466&postcount=1
ridewiththewind/Lisa
John Barton Tough Love Series Case - 09-10-2011, 09:41 PM
John and I had been talking about a case about a year and a half ago now, I think. While I love the fact that he offers so many options, it also can make it difficult to choose when it comes time to order...LoL! I told him all the little details about his cases that I just loved, and would love to see in a case I owned...the result is this case.
Where to begin? Let's start with that this case is in the 2x5/3x4 configuration...which I think is brilliant...so flexible in a space occupied typically by a 2x4 case.
The leather used in this case is a rich dark brown oil-tanned leather....which I think is perfect for an every day carry case. Oil-tanned leather just lends itself to the normal scuffing and such that would occur over time and use. Many can be simply rubbed away with the hand...or left alone, to add character. Smells really good too!
The case lid is a side opening, and secured with antiqued brass hardware, and is sturdy. The top handle is nice and comfy to carry, and again, very sturdy.
Another nice touch is, instead of scallops and studs...this case's styling is simpler straight lines and lacing, which I think gives the case a quiet elegance. I also love that John went the extra mile and included keeper straps the bind the very well crafted and sturdy luggage handle and the shoulder strap and padded pad together. Just another nice touch.
The puzzle latch is simple and effective, although obviously labor intensive...there is absolutely no worries about failure, as you can feel that it is handling the weight load quite easily.
Another feature of this case that I love, and again, is so simple but effective is the non-skid rubber bottom. No more feet to worry about snapping off, and the case stays put. No more worrying about the case sliding down the wall.
So, everything that I have mentioned and featured above, is standard to John's Tough Love Series cases. I don't think he could have more appropriately named this series of cases. They are tough. As I have previously stated, all the hardware is an antiqued brass. Stitching is top-notch throughout...I mean really, especially when the thickness of the leather is taken into consideration. The UltraPad Interior is everything John and others have said it is...almost makes you wish you were a cue...LoL! There is no where that I have found on this case where a corner was cut to save a buck...no where. From the minute you pull the case out of it's included protective Ultra-Suede bag, you know you have something very special in your hands.
Now, I wanted something a little different, and thought the chalk blue interior would be cool, and it is.
I had told John one of my pet peeves about case pockets was that the chalk and my joint protectors always wound up at the bottom of the pockets. This may well be my most favorite thing on my case...it has space for a piece of chalk at the ready and space to hold joint protectors, so they don't fall out.
If anyone is interested, the full centerfold spread is here: https://jbcases.com/lisas-future.html
I would recommend one of John's cases, without a moment of hesitation, to anyone. Yes, the wait might be on par with that of some high end custom cue makers (kidding)...but John's cases are worth every minute of the time you wait to finally receive it. They're just that good.
Lisa
https://forums.azbilliards.com/showpost.php?p=3197425&postcount=10
dr9ball/Rufus
09-11-2011, 06:41 PM
John builds some beautiful cases with world class protection. I love mine.
https://forums.azbilliards.com/showpost.php?p=2810719&postcount=1
mrsmith1976
My JB Case.... - 01-13-2011, 05:55 AM
Got my JB Case in yesterday, and I couldn't have been more pleased. John and Karen were both very courteous (Even when I was freaking out), and the case came to me EXACTLY the way I wanted it. I was very nervous during the entire process, as I felt like it was a substantial amount of cash for a case. But when I upacked it, I knew why it costs so much!! It's more like a work of art than a cue case. It is simply beautiful, and if you want something truly nice, you have to pay for it. The case is built like a tank, and the leather is thick and very soft to the touch. All the straps are tough, and the zippers are heavy duty. I have had 3 less expensive cases, and I destroyed them. I do not see how I could ever wear the handles, straps and latches out on this one. Simply put, I love the case, and I am sure that I will be pleased in the future. Great job John...another happy customer.
https://forums.azbilliards.com/showpost.php?p=3471205&postcount=16
dannylee
02-24-2012, 03:23 PM
Mr Barton does some awesome work. I just got mine last week and could not be happier with the quality and fit and finish. you did good!
https://forums.azbilliards.com/showpost.php?p=3168425&postcount=1
Bruce de Lis
Masonite, Mason TYPE Pool Cue Case - 08-23-2011, 09:34 AM
My NEW Pool Cue Case arrived several weeks ago, and Masonite is what John Barton named this first ever Mason Type Pool Cue Case with a Little Extra Reinforcing for added Pool Cue Protection. The Mason line of Pool Cue Case was inspired by a fly fishing tool case done by master leather worker Arne Mason.
What secret materials John used to give the Pool Cue Case that added protection up front behind the pockets, and to the rear part of the Cue Case is unknown, but rumor control has it that John created it, in his secret laboratoryin hhis work shop where John & his team of workers do most of the R & D, and tweaking of new ideas for Pool Cue Cases, and Pool related products John has developed.
My Masonite Pool Cue Case is a 2 Butts x 4 Shafts Configuration, with a Zippered Jump Butt Compartment, with a Jump Butt Protective Sleeve for added protection incorporated in the Pool Cue Cases 18" Long Lower Pocket. That Long Lower Pocket has John's SUPER NEATO "L" Shaped Zipper for ease of access, and it holds my 16" John Hager Extension with no problems. Plus the Masonite Pool Cue Case has John's well padded compartments for each Cue Butt Section & each Cue Shaft Section to fit in snugly like a baby in a receiving blanket giving each Cue Butt Section & each Cue Shaft Section great protection.
Plus there is an 8" Upper Pocket with a built in Chalk/Joint Protector Holder, the Upper Pocket Incorporates Zippers running down each side of the Upper Pocket for easy access to the entire storage area, and uses a Puzzle Latch Closure on the top of the pocket. The Pool Cue Cases Top closure is also a Puzzle Latch closure on the Main/Top Cue access area.
I did ask John to make the Pool Cue Case's (2) POCKETS a 1/4" deeper than his normal depth of 1-1/4", and that extra 1/4" more depth worked out just great for storing a couple of item I carry creating no strain, or puffiness on the pockets.
The Pool Cue Case weighs in at a lean 5 Pounds, 6.0 Ounces including the detachable towel ring that weigh almost 2.0 Ounces buy it self. No I have no weighted the Case full with 2 Butts x 4 Shafts, and the junk I seem to always put in my Pool Cue Case.
John and I went back and forth on design, & features I wanted as I wanted in this Pool Cue Case light enough that I could use when I walk to our Community Pool Room that is about a Mile and a Third walk each way. So the Pool Cue Case did not beat me up on my trek. But still offers Great Cue Protection, and easy access, and room for what I carry beside Pool Cue Butts, and Shafts sections.
Plus I wanted simple design, no flash, no tooling, just function for what I wanted to carry, leather dyed a dark dark brown with some leather grain showing character, and good Pool Cue Protection. Everything I ask John for, John & his Team delivered, plus more.
John's Non Slip Shoulder Pad design rocks IMHO as it don't slip off your shoulder, and don't harm clothing you are wearing, like my favorite $100.00 Tommie Bahama Hawaiian Shirts I pick up at a garage sale. The Non Slip Shoulder Pad could not work any better on a long walks IMHO.
I honestly think John, and his Team have hit a Home Run with the Masonite Pool Cue Case, I am one happy customer. John and his team of craftsmen & women pulled off another great project per my wishes, and honestly I think his team's craftsmanship, construction, and attention to detail could not be any better.
https://forums.azbilliards.com/showpost.php?p=3551640&postcount=10
12squared/Dave
My New Mason Case 04-14-2012, 08:50 PM
I have had several JB Cases in all forms, including 4x8 butterflies; his standard cases (Range Rover, Strong Bear, etc.); GTF; and several Instroke cases from when John was making them. I love them all and they are all made of excellent quality and protection. I also have several cases from other manufactures, but thought I'd concentrate on John's stuff. But my feeling's on the Mason case pretty much hold true for the rest.
Although I haven't used the Mason case all that much so it's still new, I find the weight, size, pocket size & design, and workmanship/quality of the leather to be second to none. Although the pockets are a little more roomy on the 4x8 butterfly because they have more room to work with because of the larger surface, the added length of the large pocket on the Mason allows my extender to be fully assembled when stored, whereas I have to remove the end cap to store it in any other case I have (I love this feature!).
One thing to note is that because of its compact design, it is a tight fit storing my cues in it as it is new and I think the leather and the inserts need breaking in per John's video so this will get better. Other than that...I LOVE IT! It looks cool and all that saw it Friday night love it, too.


---
Testimonials from UNHAPPY Customers
see we do have some...

From vsmavs23 on AZ Billiards - thread and my rebuttals here ----> https://forums.azbilliards.com/showthread.php?t=489123

"Hello all I have had my JD rugged for about a year now and if anyone were to ask if I would recommend them? I would answer Absolutely Not.

Not only is 300 dollars with backpack straps pricey but you would think the rugged would last for years. I play pool 2 or 3 times a week never leave it in the car and take care of it. About 6 months in the interior started to fail and was loose. How that happened is beyond me but for being a rugged my semi soft Castillo case blows this out of the water not only quality wise but durability as well.

I didn't want to really do a review until after I went and brought my case to the expo, I showed it to John and he acted like I was overreacting and there was no big deal. Well John when you sell a case claiming it's tough and durable and talk all this nonsense about your interior being superior...you should back the product and also be nicer to your customers.

In no way did I want or ask for anything there just wanted to show what happened to my case maybe it was a flaw or bad luck. After meeting Gil I gave one of his cases a shot and i will never try anything else unless I hit lotto then maybe a whitten LOL. Sorry if I come off as trying to bash John, but I gave him a chance and after trying another product I think alot more people need to give CASTILLO a shot!!!"

Note from John..... I do not believe that this went down as claimed but feel free to read my rebuttal at the link above. If you do want to "give Castillo a shot and you think that Castillo cases "blows this out of the water not only quality wise but durability as well" then go here to view them here castilloleathergoods.com